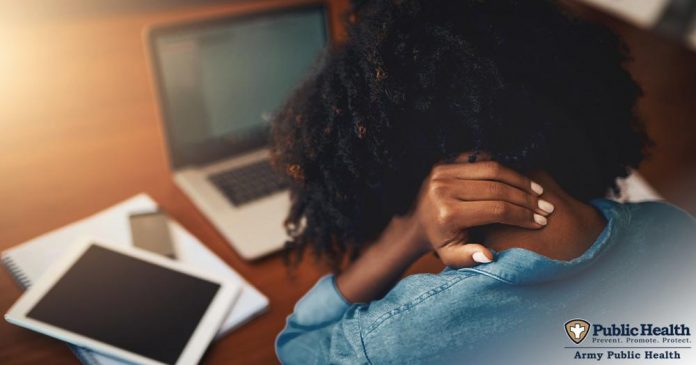 By V. Hauschild, Army Health Center
ABERDEEN PROVING GROUND, Maryland – In March 2020, the Department of Defense, acting on orders from the White House, put procedures in place to mitigate the risks of the looming COVID-19 pandemic. This included a "maximum teleworking" position for nearly 1.4 million active service members and 800,000 civilian DOD employees.
With the new mandate, many DOD employees were working from home for the first time. Most of them have found a way to adapt and many of them choose to or are encouraged to use teleworking from home.
Many teleworkers report positive effects of the additional flexibility, including more free time and less commuting. But science shows that there are also some downsides.
"While most of the existing studies of teleworkers are outside of the federal government, DOD workers' professional responsibilities in teleworking from home have identified similar, if not exactly the same health problems as their non-DOD counterparts," says Scott Monks , Medical Assistant in the Occupational and Environmental Medicine Department of the Army Public Health Center.
Monks says general health issues in studies that focus on teleworkers include musculoskeletal pain, weight gain, and behavior problems.
While not specifically tied to teleworking, other health conditions can be exacerbated by long periods of sitting in front of a computer. Examples are conditions such as digital eye strain or "Computer Vision Syndrome" and sleep disorders due to excessive blue light.
Monks admits that not everyone experiences or develops the same health problems, and some may view the teleworking experience as positive rather than negative. But for most people who work from a computer at home, there are likely some negative health outcomes that need improvement.
"Existing evidence shows that musculoskeletal pain is one of the most common ailments experienced by desk workers," says Monks.
Monks says most workers experience lower back and neck pain followed by shoulders, wrists, and elbows.
This was shown by a study conducted during the pandemic and published in the International Journal of Environmental Research and Public Health on August 28, 2020, which surveyed teleworkers and found that 41 percent had lower back pain and 24 percent had neck pain. The study concluded:
• The home environment appears to be inadequate in the mobile workforce, with an increased risk of musculoskeletal problems, particularly those affecting the spine.
• An increased sedentary lifestyle and poor posture due to the use of non-ergonomic equipment appeared to favor the occurrence of musculoskeletal disorders, particularly low back and neck pain.
If teleworkers experience pain or discomfort from working longer hours, Monks recommends considering the ergonomics of their workplace and working habits at home.
An assessment of the ergonomics at the home office may be necessary. Many DOD employees can seek the help of a certified ergonomist at their medical treatment facility or at their facility's security office to help assess and recommend corrective devices and / or adjustments for their home office.
However, another study published in the International Journal of Environmental Research and Public Health on December 23, 2020 found a reduction in musculoskeletal pain observed in teleworkers. The study attributed this phenomenon to the increasing frequency of physical activity among teleworkers and a shift from aerobic activities before lockdown to more strength training and stretching.
This supports the proven evidence-based recommendation of the Department of Health and Human Services for healthy adults to participate in 150 to 300 minutes of moderate physical activity per week or, alternatively, 75 minutes per week of intense activity. In addition, adults should aim for two or three strength training sessions each week.
Even if these goals are achieved with specific workouts, there are still health concerns about sitting at the computer or surfing on the couch for the remainder of your waking hours.
"The best way to avoid musculoskeletal pain while teleworking is to allow time for regular activity breaks," says Monks.
Monks suggests that one simple thing anyone can do is take exercise breaks every one or two hours during their work day. If necessary, set a timer as a reminder – and get up, stretch, do a lap around the house or garden, or do push-ups.
"The combination of a more ergonomically correct work environment, increased physical activity through special training sessions, and several short breaks in movement or stretching each day will likely reduce your risk of MSK pain," says Monks.
Even better, says Monks, the same measures can reduce the risk or severity of other potential health effects related to teleworking, such as impaired vision, weight gain, and behavioral problems.
The Army Public Health Center offers several resources for more information on –
• Improving the ergonomics of your workplace at home or in the office: https://phc.amedd.army.mil/topics/workplacehealth/ergo/Pages/default.aspx
• Injuries to the military and effective prevention strategies: https://phc.amedd.army.mil/topics/workplacehealth/ergo/Pages/default.aspx
• Weight management and healthy lifestyle resources: https://phc.amedd.army.mil/topics/healthyliving/Pages/default.aspx
The U.S. Army Public Health Center improves Army preparedness by identifying and assessing current and emerging health threats, developing and communicating public health solutions, and ensuring the quality and effectiveness of the Army's public health enterprise.
| | |
| --- | --- |
| Recording date: | 06/10/2021 |
| Release Date: | 06/10/2021 1:28 PM |
| Story ID: | 406848 |
| Location: | US |
| | |
| --- | --- |
| Web views: | 7th |
| Downloads: | 0 |
PUBLIC DOMAIN
This work, Army occupational medicine expert discusses the health effects of teleworking, must adhere to the restrictions specified on https://www.dvidshub.net/about/copyright.