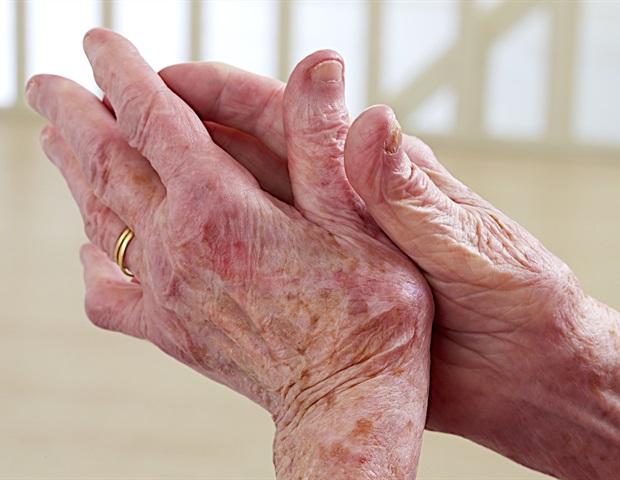 Online searches for symptoms of arthritis and osteoarthritis are increasing with residents across the UK.
As National Arthritis Week approaches, Good Energies' B-Cure Laser has released results from a health problem study that sees a remarkable surge in Google search traffic in 2021.
The highest searches in this category were for "Arthritis Symptoms" with a total of 14,800 across the UK. Followed by "Osteoarthritis Symptoms" at 6,600 searches, "Arthritis Signs" at 2,400 searches, and "Arthritis Help" at 590 searches as the decline in physical activity during the COVID-19 pandemic begins to show potential effects.
As restrictions eased over the summer and people began returning to their GPs and support became available again, the number of people seeking "osteoarthritis help" fell 41%, from 1,000 searches to 560 year-on-year .
Good Energies launched its laser-powered home pain relief device in the UK earlier this year, addressing more than 70 key terms covering both mental and physical pain issues. In the past 12 months, there were more than 760,000 searches on arthritis, fibromyalgia, and menopause, as well as anxiety, depression, eating disorders, and autism.
B-Cure Laser UK manager Itay Avni said, "As we approach National Arthritis Week in October, we wanted to understand the country's health issues. By examining people's concerns, both mental and physical, we have identified clear areas of concern for UK residents, including a marked increase in arthritis-related concerns. "
After 18 challenging months for our society and COVID-19 concerns that fueled heightened fear of visiting doctors' offices, it's no surprise that people are turning to the internet to self-diagnose. While the Internet has many useful guidelines on health and extended fitness, we recommend that anyone with concerns about their wellbeing consult a professional. "
Itay Avni, UK Manager, B-Cure Laser
The highest searches per capita in the UK were for "symptoms of anxiety" (165.04 per 100,000 population), "symptoms of menopause" (135.78) and "symptoms of depression" (111.03). Also on the list was fibromyalgia, a condition associated with widespread musculoskeletal pain, fatigue, sleep, memory, and mood problems. There were a total of 40,500 searches for "Fibromyalgia Symptoms".
Earlier this year, the B-Cure Laser team also announced the results of a UK adult pain survey that found the UK population is expected to spend £ 1.14 billion (£ 1,140,633,600) each month on pain treatments.
While 75% of respondents said they were satisfied with their current pain treatments, 25% said they were either unsatisfied or had no treatment. A total of 54% of respondents said they used pain relievers to treat their symptoms (34% with over-the-counter pain relievers and 20% with prescribed pain relievers), while 10% and 7% said they had used alcohol or recreational drugs to relieve their condition.
The survey found that more than a quarter of the UK (26%) experience pain at least once a month, with one in five reporting having difficulty sleeping because of their pain.
Lower back pain, which accounts for 40% of pain across the UK, was most common in Swansea, where 64% of residents reported difficulty, with the city of Worcester reporting the most severe pain, where 27% of people really struggled – this one Pain really increases when you hear Worcester residents spend an average of £ 98.59 each month on pain relief.