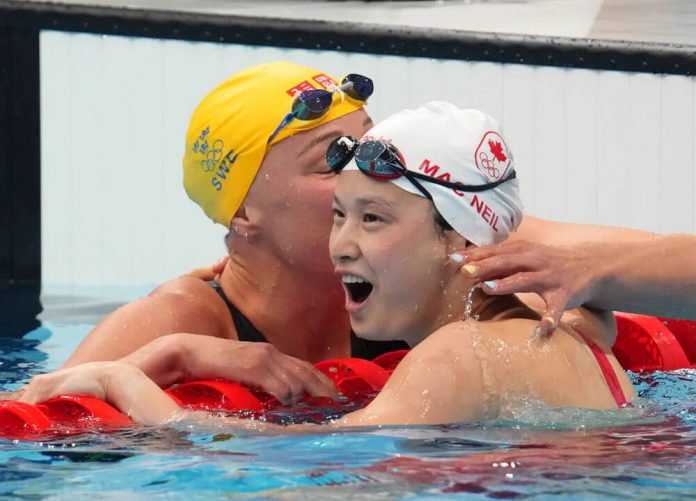 The latest edition of the Swimming World magazine
is now available for download in Swimming world safe!
Non-subscribers can download this issue here
By Matthew De George
Canadian swimmers exceeded expectations at the Tokyo Games. And the Canadian delegation showed that the future is as bright as the present, with productive young talent on both sides of the competition.
John Atkinson's message of insecurity was paradoxically consistent.
Swimming Canada's high performance director wasn't sure what the Tokyo Olympics would bring. As one of the last major swimming nations to return to normal exercise schedules, the disruption caused by the COVID-19 pandemic has been significant. An Olympic test, which was postponed three times and took place at the end of June with a reduced field of participants just before the last minute, did not offer much clarity. Atkinson's comments prior to leaving for Tokyo were rooted in the confidence of his athletes, but he refrained from setting specific goals and adjusting expectations to the reality they faced.
If uncertainty was the right term before the Olympics started, surprise at the end of the week at Tokyo Aquatics Center wasn't quite the right thing to do.
In almost all departments, Canadian swimmers exceeded expectations at the Tokyo Games, adjusted for COVID-19 or not. The Canadians went with six medals, all on the ladies side, including a gold medal for Maggie MacNeil in the 100-meter butterfly. They took four fourth places, all in record time in Canada, which Atkinson considers to be synonymous with a medal.
"They just do what they have to do to regroup and refocus," Atkinson said. "And the resilience they have shown over the past 17 months of the pandemic is extraordinary and something I would praise anyone for."
The iconic shock and joy on MacNeil's face as he saw the board after the 100th fly after beating a field that included world record holder Sarah Sjostrom and later seven-time medalist Emma McKeon sums up the Canadians' Olympic Games perfectly together. It was an accomplishment MacNeil knew she could achieve, from her dominance in college at the University of Michigan to her 2019 World Cup. But after she had to abruptly switch training bases during the pandemic, it was left to the last line understandable reservations about being able to give their best at the crucial moment.
SUCCESS AGAINST RESISTANCE
Every swimmer experienced his or her adverse moments before the games. Penny Oleksiak was out of the water for two long stretches because of persistent back pain. Kylie Masse had to move across provinces to train at the High Performance Center in Toronto when other pools were not available. The move from Sydney Pickrem to HPC Toronto required a hasty exit from their College Station, Texas base before the border closed.
But with this exertion, the medals went to the Canadian women. Masse – a leader in and out of the pool and, according to coach Ben Titley, "possibly the greatest person I've ever trained" – briefly held the Olympic record in the 100th backstroke and set national records in both backstroke competitions on the way to a pair of silver medals ( together with a tier bronze). Oleksiak put in a bold performance in the 200th free-to-rally in the last 50 for bronze, setting a Canadian record in fourth place on most nations struggling to congregate in the few weeks leading up to the Games.
To learn more about Team Canada's performance in Tokyo and their outlook for Paris 2024,
Click here to download the full October issue of Swimming World Magazine, available now!

New! 30-day membership to the ISHOF UND Digital Swimming World subscription for just $ 10 per month!
Want more? Receive a 1-year ISHOF family membership with Swimming World Print AND Digital subscription
CHARACTERISTICS
010 THE OLYMPIC "QUADRENNIUM": A LOOK BACK AND A LOOK AHEAD
by David Rieder
Swimming World reflects on the last five years since the last Olympic Games in Rio and reflects on the questions that lie ahead of us in the next three years until Paris 2024.
014 A CANADIAN LIFT
by Matthew De George
Canadian swimmers exceeded expectations at the Tokyo Games. And the Canadian delegation showed that the future is as bright as the present, with productive young talent on both sides of the competition.
020 ISHOF FEATURE: AQUATOTS MORD CASE – THE KATHY TONGAY STORY (Part 1)
by Bruce Wigo
It is doubtful that there has ever been an example in the annals of aquatic history of abusive parents like the story of "little Kathy Tongay".
024 EXPECT GREAT!
by John Lohn
David Popovici has just turned 17, but the Romanian sprint freestyler seems ready to embark on a path to notoriety.
031 NUTRITION: KNOW YOURSELF
by Dawn Weatherwax
Knowing your body composition can help you swim fast and stay healthy.
COACHING
029 BASIC DRY TRAINING
by Michael J. Stot
Concentrated, continuous strength and conditioning training offers a high-quality complement to training in the pool and helps swimmers to become stronger and faster. Trainers Ron and Rich Blanc of Santa Margarita Catholic High School in Southern California share last season's drylands training plan that helped its girls 'and boys' teams become national powers.
030 WEIGHT SPACE COMMON SENSE
by JR Rosania
These do's and dont's are courtesy of exercise scientist JR Rosania, whose performance enhancement company Healthplex services multisport athletes worldwide.
034 SWIMMING TECHNIQUE CONCEPTS: MAXIMIZING THE SWIMMING SPEED (Part 5): MINIMIZING THE ARM RECOVERY PHASE
by Rod Havriluk
The greatest possible time reductions for additional increases in swimming speed are in the non-propulsion phases (entry and recovery). This article provides strategies for minimizing the recovery period on all four strokes.
045 Q&A WITH TRAINERS RON & RICH BLANC
by Michael J. Stot
046 HOW TO TRAIN MAGGIE McGUIRE & JACK NUGENT
by Michael J. Stot
EDUCATION
033 DRYSIDE TRAINING: BACK TO BASICS (Part 1)
by JR Rosania
JUNIOR SWIMMER
044 UP & COME: MARYJANE (MJ) NEILSON
by Shoshanna Rutemiller
PILLARS & SPECIAL SECTIONS
008 A VOICE FOR SPORT
009 DID YOU KNOW: ABOUT FAMOUS GUYS WHO GOLF?
016 HOLIDAY GIFT GUIDE
036 DIRECTORY OF THE PREPARATORY SCHOOL`
048 GUTTERTALK
049 SCABBAGE ADAPTER
Swimming World is now a partner of the International Swimming Hall of Fame. To find out more, visit us at ishof.org
Related