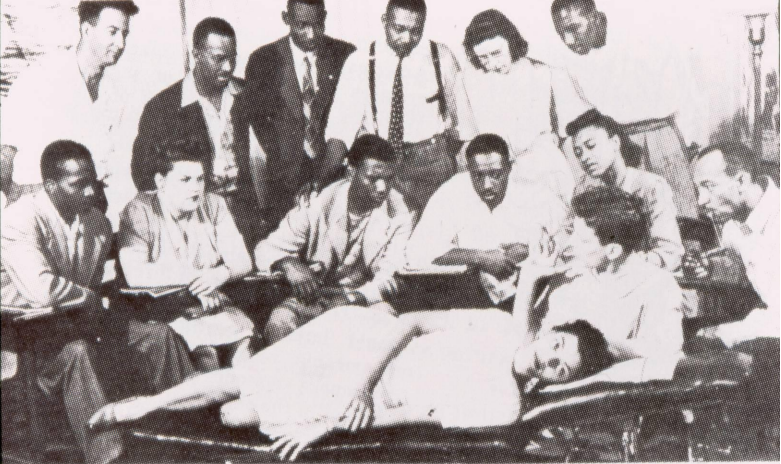 Chiropractic was born roughly 125 years ago when Daniel David (D.D.) Palmer treated Harvey J. Lillard, a Black man, for a hearing condition that originally resulted from an injury to his spine. What has become known as the first chiropractic adjustment to Lillard's spine restored his hearing and a profession was born.
"I was deaf 17 years and I expected to always remain so, for I had doctored a great deal without any benefit," Lillard said afterward according to Chiropractic History: A Primer. "I had long ago made up my mind to not take any more ear treatments, for it did me no good. Last January Dr. Palmer told me that my deafness came from an injury in my spine. This was new to me; but it is a fact that my back was injured at the time I went deaf. Dr. Palmer treated me on the spine; in two treatments I could hear quite well. That was eight months ago. My hearing remains good."
It would not be until the 1950s that Blacks would be accepted into the major chiropractic colleges, but 1914 and The Rubel College of Chiropractic remains a major historical footnote as H.L. Rubel opened the first Black chiropractic college "to open the field of instruction to all races, no matter what the color of their skin may be…".
Blacks and minorities remain severely underrepresented in chiropractic in terms of doctors and the patients they serve. Currently less than 2% of doctors of chiropractic are Black, according to the American Black Chiropractors Association (ABCA), and Black communities are subsequently underserved in terms of access to chiropractic care.
"Chiropractic has the potential to transform the health of this country, especially if chiropractors are more representative of the nation's population," writes Magen Henry, DC, and secretary of the ABCA, in one of our featured articles below. "Massive action steps are needed to improve chiropractic representation in the Black community. More than ever, chiropractic institutions are acknowledging the importance of Black chiropractors in the profession. They are recognizing that the health of the nation cannot be improved until the disparities that exist in the health of Black and other minority communities are improved, and that chiropractic has a place in changing the paradigm."
Black chiropractors and DC's roles in black health
Though 125 years may seem like a long time, chiropractic is in its infancy. We still have a long way to grow. Massive action steps are needed to improve chiropractic representation in the Black community.
Read More
twin mission for educating on the importance of diversity in chiropractic
"Many minorities we talk to have no clue what chiropractors do," LaToya says. "It's a constant education process for us. It reminds me of the statement, 'You don't know what you don't know.' I think increasing the exposure to chiropractic care in minority communities could result in an increase in minority patients."
Read More
New American Black Chiropractic Association president Edwards brings new energy, focus
"In order to transform the profession into one where doctors more resemble patient populations, recruitment for DC programs nationwide would become an area of focus," Edwards says. "Recruitment in the urban core that includes programs which inform the community about chiropractic and its benefits are crucial."
Read More
dvancing Diversity as We Advance the Chiropractic Profession
The report calls for increasing diversity through engagement with academic program accreditation organizations, citing 2.3% black chiropractors in the U.S. serving a Black/African population in the U.S. of 13.8%…
Read More
Life University announces new Office of Diversity, Equity and Inclusion
A year after launching a Campus Climate Initiative to better understand how the university was progressing in efforts to be welcoming and inclusive, Life University this summer announced a new Office of Diversity, Equity and Inclusion (ODEI).
Read More
The post 5 for 5: Chiropractic articles for Black History Month appeared first on Chiropractic Economics.



By: Chiropractic Economics
Title: 5 for 5: Chiropractic articles for Black History Month
Sourced From: www.chiroeco.com/black-history-month/
Published Date: Wed, 03 Feb 2021 15:59:48 +0000