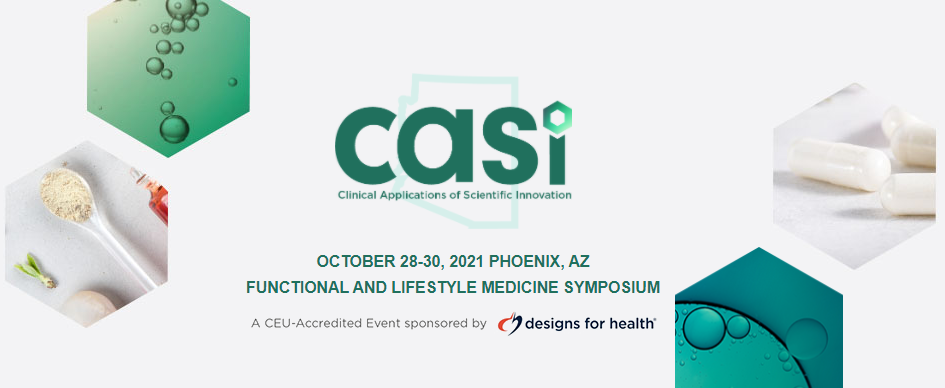 Clinical Applications of Scientific Innovation (CASI) will host the 2021 Functional and Lifestyle Medicine Symposium on Oct. 28-30 in Phoenix, Ariz. The CEU-accredited event is sponsored by Designs for Health.
Themed "The Age Of Longevity: Clinical Insights And Practical Approaches To Better Patient Outcomes," the Functional and Lifestyle Medicine conference will feature two days of informative presentations and workshops with the world's leading researchers and functional medicine experts in the fields of cell biology, metabolism, senolytics, neurology, endocrinology, integrative pediatrics, and nutritional medicine as they unravel the nexus of influences and causes of age-related disorders.
Event highlights include:
2 days of immersive presentations featuring the latest innovations in clinical care and Functional and Lifestyle MedicineWorld-renowned researchers, clinicians, and thought leaders delivering cutting-edge educationLearn clinical intervention strategies to implement in your practice for immediate impactNetworking and collaboration opportunities with industry expertsContinuing education credits to support your professional statusExhibition hall to engage with the latest innovations, research, technologies, conference specials, and industry partnersAccess to post-event webinars and video highlights
Featured speaker topics will include:
Nutrigenomics and Precision Lifestyle MedicineThe End of Alzheimer's: Preventing & Reversing Cognitive DeclineThe Synergy of CBD & Supplements for Effective Protocol DesignNovel Strategies for Bone & Muscle Preservation in Aging PopulationsThe Potential Benefits of Targeted Nutrients in Oncology OutcomesSenolytic Therapies to Address Cell SenescenceThe Cell Danger Response and The Rising Tide of Chronic DiseaseEarly Life & Epigenetics: Priming Health in PediatricsIntermittent Fasting: Transformational Technique
Experience world-class golf, dining, and events at the historic Arizona Biltmore, a Waldorf Astoria Resort in Phoenix.
To see the Functional and Lifestyle Medicine Conference list of featured speakers or for more info or early-bird registration go to landingpage.designsforhealth.com/casi.
The post Functional and Lifestyle Medicine Symposium scheduled for October appeared first on Chiropractic Economics.



By: Chiropractic Economics
Title: Functional and Lifestyle Medicine Symposium scheduled for October
Sourced From: www.chiroeco.com/functional-and-lifestyle-medicine/
Published Date: Mon, 19 Apr 2021 18:08:56 +0000