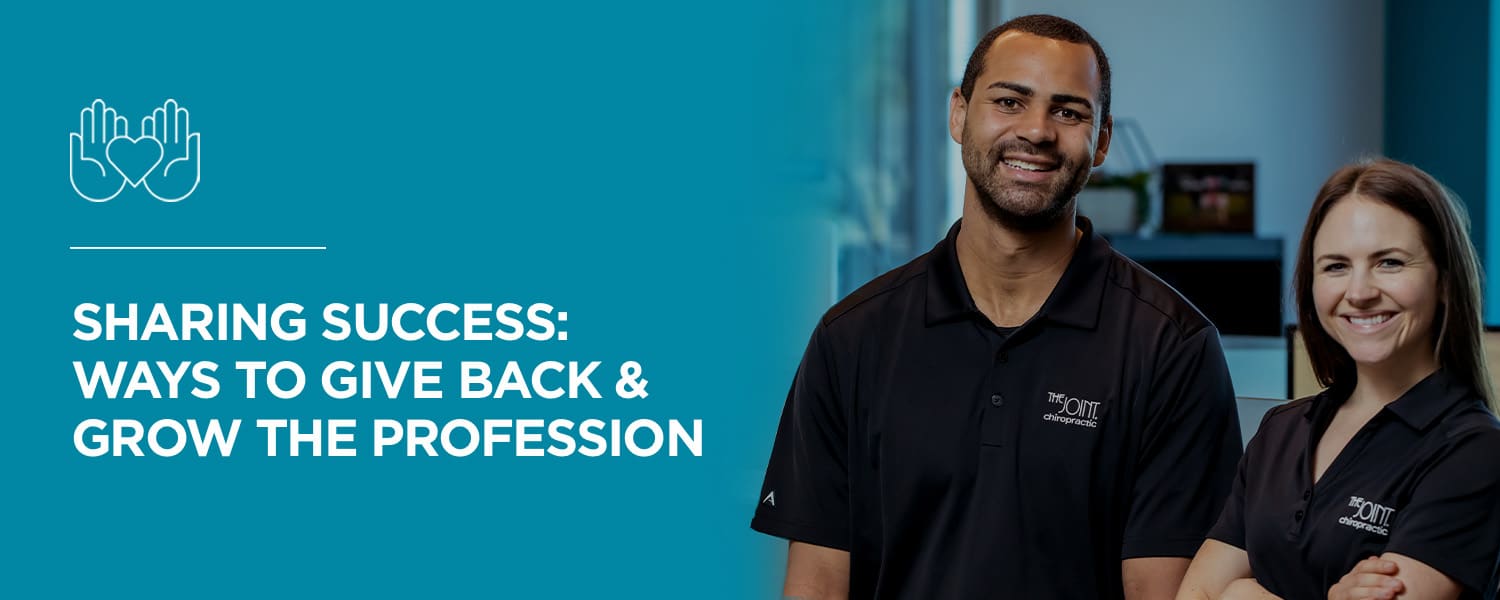 Sponsored content provided by The Joint
There are countless opportunities for successful chiropractors to give back and uplift the profession that benefited them so much
Undoubtedly, 2020 was a difficult  year for many practices to navigate. Managing the uncertainties of the pandemic, from ever-changing state regulations and PPP loan applications to the health of office staff and patients, required additional attention and problem-solving skills from business owners. The silver lining amidst the storm clouds was that chiropractic care was deemed an essential health care service, allowing our profession to serve patients through the crisis.
As a result, some chiropractic practices continued to succeed, and even exceed, economic expectations. Was your business prosperous? Did you thrive due to accelerated demand for chiropractic care? If so, how can you leverage your success to give back to the profession and advance the greater cause?
dvocating for the profession
The willingness of our profession — each of us — to act as a unified front, contrasting with the detachment and disengagement of other health care fields, will elevate our profile and increase the public's awareness of the efficacy of chiropractic. Working together to support and build the profession should be a movement that benefits us all.
In this spirit, The Joint Chiropractic tapped into our network of franchisee and corporately owned or managed clinics to raise nearly $50,000 during the month of September, in honor of the 125th anniversary of chiropractic and to support chiropractic research at Life University. Similarly, our community pooled its resources and raised more than $60,000 to support the Texas Board of Chiropractic Examiners and the Texas Chiropractic Association in their landmark victory in the Texas Supreme Court case against the Texas Medical Association.
Chiropractors who survived and thrived during the pandemic should identify opportunities to actively contribute to our profession and elevate our public standing. In fact, it should be regarded as a duty. If you're looking for opportunities to get involved in 2021, here are a few worthy areas you might consider for lending your valued support.
Three ways to pay it forward
Creating a scholarship opportunity with a chiropractic school is a great way to provide future professionals relief from student debt, which can be a sizable hurdle for many new graduates. Providing financial assistance to students can also advance a chiropractic culture of giving back. Schools are often very flexible with setting up scholarship programs in varying dollar amounts. Additionally, these gifts could be considered tax deductible by the IRS, although you should consult your tax accountant for details. Consider this option as a way to support both the growth of the profession, as well as thanking the institution that provided you with the means to practice.Another option may be a donation to a chiropractic school to fund clinical research programs. Like scholarships, this is a great way to support the future of chiropractic by contributing to the growing body of research we greatly need in our profession. It's no secret that the reputation of chiropractic, especially with other health care providers and skeptical patients, benefits directly from the amount of quality research that can be published. Donating to the production of research can help the long-term growth of the profession by elevating the recognized efficacy of chiropractic care.A third consideration is to support the associations and chiropractic organizations currently engaged with growing or defending the profession. Many of these organizations host events and welcome financial contributions towards travel or expenses that allow students to attend. To help you choose from the many options in this space, you might think about a couple screening questions: Which association or organization has a track record for driving change in the profession? Are there groups or associations that you personally identify with, such as the League of Chiropractic Women or American Black Chiropractic Association? Be sure to do your due diligence to ensure your dollars are allocated towards effective programs that are driving positive change.
There are countless opportunities for successful chiropractors to give back and uplift the profession that benefited them so much. If we truly want to advance a lasting movement, we must commit to building on the shoulders of the giants who created what we all enjoy today. It's my belief that leadership must come from those who are fortunate enough to have the financial means to pay it forward. If we are not doing our part for the future of chiropractic, we are culpable in any decline.
About the author
Steven Knauf, DC, is executive director of chiropractic and compliance at The Joint Chiropractic. He began working at The Joint in 2011. After spending four years as a chiropractor in-clinic, he took the role of senior doctor of chiropractic for 13 of The Joint Corp. clinics and, subsequently, was elevated to a director position at the corporate office. In August 2017, he was appointed by the governor to serve on the Arizona Board of Chiropractic Examiners, a position which he continues to hold.
The post Grow the Profession: Three Ideas for Sharing your Success appeared first on Chiropractic Economics.



By: Steven Knauf
Title: Grow the Profession: Three Ideas for Sharing your Success
Sourced From: www.chiroeco.com/grow-the-profession/
Published Date: Tue, 02 Mar 2021 14:19:35 +0000