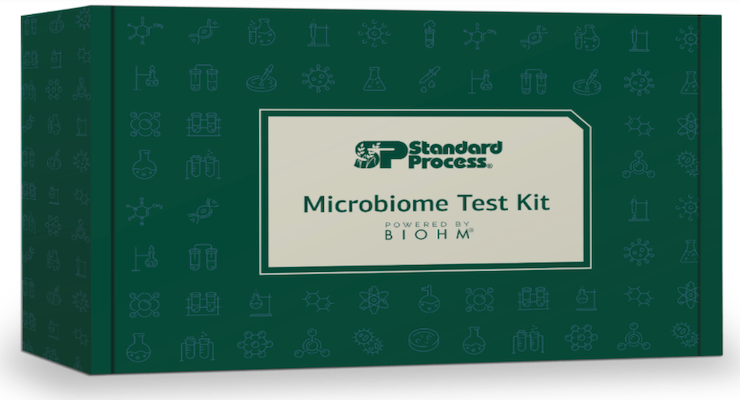 The Standard Process Microbiome Test Kit is a two-part assessment of a patient's gut microbiome
Standard Process has partnered with BIOHM® Health to offer a Microbiome Test Kit in order to provide health care practitioners and patients with guidance for good gut health. By partnering with BIOHM® — which has completed thousands of consumer gut microbiome tests — Standard Process is better able to deliver insights that help support the microbiome, inform dietary choices, and promote a healthy lifestyle.
Along with a healthy diet, quality supplements can play an important role in supporting digestive health. However, if not aligned with patient needs, the potential health benefit(s) of these supplements may not be fully realized.
The results of the comprehensive Standard Process Microbiome Test Kit, together with the patient's self-reported answers to a Lifestyle Questionnaire, provide patients and practitioners with an assessment of their gut microbiome's diversity. It identifies the amount of beneficial (good), pathogenic (bad), and neutral bacterial and fungal strains. It's the first step towards suggesting purposeful changes.
"The Microbiome Test Kit will add another level of confidence for health care professionals when recommending adjustments to a patient's lifestyle," said Ken Misher, product marketing manager at Standard Process. "This includes fine-tuning supplement, diet, and lifestyle recommendations."
The Standard Process Microbiome Test Kit is a two-part assessment of a patient's gut microbiome, which is derived from:
Patient's Answers to Lifestyle Questionnaire. The answers to a questionnaire that a patient completes when registering the at-home test. It provides information on his/her diet, lifestyle, supplement consumption, and overall health.Gut Microbiome Analysis from Patient's Stool Sample. The patient's personalized microbiome profile is generated from BIOHM Health's next-generation 16S and ITS sequencing of bacterial and fungal populations in the stool. It provides an evaluation of the diversity and relative abundance of both bacterial and fungal strains within your patient's gut microbiome.
Using bioinformatic analysis, The Microbiome Test Kit results are compared to the profile of a normal/healthy individual to provide insight as to whether the patient's individual gut microbiome is balanced or imbalanced ("Gut Report"). This Gut Report includes a proprietary gut profile score index (Gut Score
) between 1 and 10 for each patient. This Gut Score
is a calculation of BIOHM Health that may help provide certain insights into the overall condition of a patient's gut microbiome. It is based on four criteria from the patient's microbiome data:
Microbiome diversityPhyla balanceThe beneficial speciesThe pathogenic species
"We're thrilled to partner with Standard Process," said Afif Ghannoum, CEO of BIOHM Health. "Combining our world-renowned expertise in microbiome testing with their unparalleled history in whole food nutrition, allows us to collectively bring something very special to the practitioner channel."
The Standard Process Microbiome Test Kit was developed by BIOHM Health, which is one of the world's leading microbiome companies. They have completed thousands of consumer gut microbiome tests, are recognized for their expertise in bacterial and fungal interactions, and use the 16S and ITS rRNA sequencing for microbiome analysis — the gold standard for bacterial and fungal sequencing. The company was co-founded by Dr. Mahmoud Ghannoum, PhD. He is the company's Chief Scientific Officer and one of the world's key opinion leaders (KOLs) on the microbiome and the interaction between bacterial and fungal communities, with over 480 peer-reviewed publications, and over 25,000 citations of his work in the scientific literature.
To learn more visit StandardProcess.com.
The post Standard Process, BIOHM Health introduce Microbiome Test Kit appeared first on Chiropractic Economics.



By: Chiropractic Economics
Title: Standard Process, BIOHM Health introduce Microbiome Test Kit
Sourced From: www.chiroeco.com/microbiome-test-kit/
Published Date: Mon, 22 Mar 2021 18:28:33 +0000