This article is the fourth in a series about adoption in N'West Iowa. This series highlights the stories of families who have come into being through adoption, and the professionals and organizations that follow alongside them on their journey.
REGIONAL—The foster care system, like most systems, is imperfect, filled with protocols and red tape, case managers and court-appointed advocates. It also is filled with people, making their uncertain way.
Along with social workers, who work with families to overcome obstacles, there are the families themselves, walking through challenges like addiction and substance abuse, mental health diagnoses, poverty and abuse. Sometimes, children must be removed from their homes until a safe environment can be reestablished.
When removal is necessary, foster families step in, welcoming placements as needed, grafting in new family members for a week, a month, a year.
The goal — always — is reunification. Children thrive when they stay with their original families, or with other relatives who are able to care for them. However, sometimes reunification with the biological family isn't possible, and a foster placement becomes an adoption.
Whatever the outcome, those who navigate the system are often working through setbacks, exhaustion and burnout to mend fractured families and keep children safe.
The Snieders
Stacie Snieder did not want to be a foster parent. She wasn't even sure she wanted kids at all.
Then, one Sunday, she was sitting in church with her husband, Blake. It was the fall of 2012, and they were a young couple at the time, living in Sheldon. The pastor asked the congregation for prayer requests.
"There was a little girl, about 4, in the back of a room," Stacie said, "and she stood up and said in this little voice, 'I want you to pray for a new mom for me.'"
Stacie was moved.
"I almost left — there were that many, tears," she said.
Kari Snieder, 13, poses during a family photo shoot. Kari was adopted by Stacie and Blake Snieder when she was four years old, and the family has fought to get her the support she needs.

Photo submitted

After the service, she got in touch with the girl's foster parents, who also were family friends. She wasn't sure why she was contacting them, really, other than she felt like she didn't have a choice.
"The answer I wanted was, 'No, she's not up for adoption,'" Stacie said. "The whole time, I was basically trying to get out of it. Like, I don't want to do this — this girl is 4."
The foster family told Stacie that parental rights already had been terminated, and 4-year-old Kari was available for adoption.
What else could they do? The Snieders said "Yes."
"We didn't know what we were doing, really," Stacie said.
Still, they knew they were making the right choice. Kari's adoption was finalized in 2013.
"We adopted this girl who prayed for a new mom — that sounds like a cute little story if I stop there," Stacie said.
It doesn't, though, and theirs is a story of struggle. They overcame one obstacle only to encounter another. It also is a story about advocacy, and the failures of systems that are supposed to serve families and not hinder them. Stacie's fight to get her daughter the support she needed to thrive ultimately led her to the governor's office, where Stacie gained the ear of Iowa's top Medicaid adviser and the team that oversees the state health-care system.
Becoming parents
That was nearly three years after they brought Kari home, and after Kari had been diagnosed with an intellectual disability and attention-deficit/hyperactivity disorder (ADHD).
In those first years, however, the Snieders were going in blind, without the benefit of a diagnosis, learning to address the instability and trauma their new daughter already had experienced in her young life.
"Her development was way behind," Stacie said.
There was one hurdle after another.
After Kari's adoption, Stacie and Blake began taking in foster placements. Their house, empty only months before, was full of chaos and laughter — there were Cheetos on the floor, an explosion of crayons, tears and squabbles and lots of "big feelings."
In many ways, their experience as a busy family with young kids was typical. In other ways, it wasn't. In the Snieder household, children's emotions and developmental stages often were inflected by their histories of neglect, trauma and sometimes abuse.
"Those years were challenging," Stacie said.
Trauma
Dr. Tara Boer, professor of social work at Dordt University in Sioux Center, teaches her students about the effects of trauma on the brain. Many of her students go on to work in child welfare, and Boer herself has a background in clinical practice.
"What we know about science and trauma is that the body remembers," Boer said.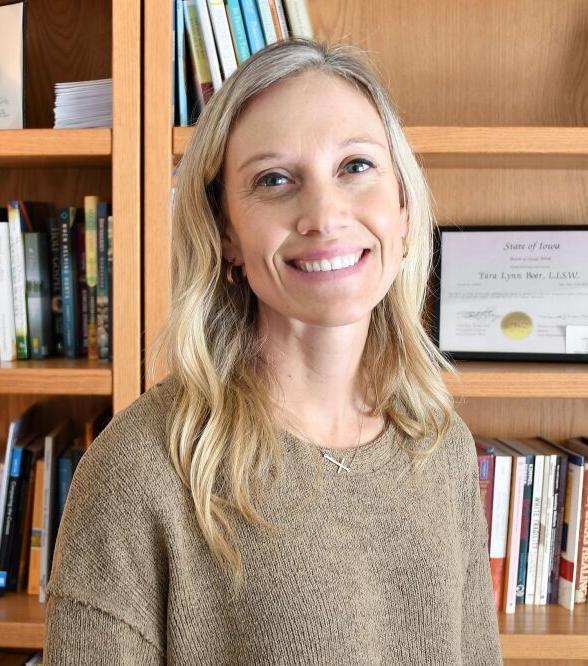 Dr. Tara Boer, professor of social work at Dordt University.

Aleisa Schat
[email protected]
The body undergoes physiological changes under stress, and when stress is prolonged, it changes the patterns of neural activity in the brain — "rewiring" it, essentially. Abuse, neglect — trauma of any kind — can lead to problems with attachment and serious developmental delays.
"For a child that has spent the first two years of life in a violent, traumatic home, in high states of fear, there is constant cortisol flooding," Boer said, referring to the stress hormone involved in the "fight-or-flight" response. In those circumstances, she said, "there is chronic stress, and a child's brain rewires around survival."
Even babies can carry trauma with them in their bodies, she said.
"There's a misperception that if it happened in infancy, they can't remember that," Boer said.
However, experiences like abuse, neglect or abandonment reshape an infant's brain, even if an infant isn't old enough to remember the trauma.
"Left in constant fear states," Boer said, "kids never get the opportunity to practice emotional regulation," the ability to cope productively with stress, anger, pain and fear.
That doesn't have to be the end of the story, however, and those in the foster care system — social workers, attorneys ad litem, therapists, foster families — all have an important role to play in addressing the needs of kids who have been removed from their homes.
"When we get them into safe environments, we see language explosion, they start sleeping better, doing better in school, their nervous system is calmed down," Boer said. Infants, once significantly delayed, may begin sitting up, crawling or walking in a matter of weeks or months.
No crying
Social worker Brianna Tamminga, who is an Iowa Department of Human Services case manager for Sioux and Lyon counties, has seen the effects of trauma firsthand. Aside from her work in child welfare, she and her husband, Jordan, who live in Hull, have been foster parents themselves. Their daughter, Shyanne, 4, she came to them as a foster placement when she was 8 months old.
"She didn't roll over, she didn't sit up, she had poor muscle tone," Brianna said. "She was diagnosed as 'failure to thrive.'"
Shyanne also never cried. She had experienced severe neglect, learning over time that crying didn't work. It wouldn't bring a caregiver to her side.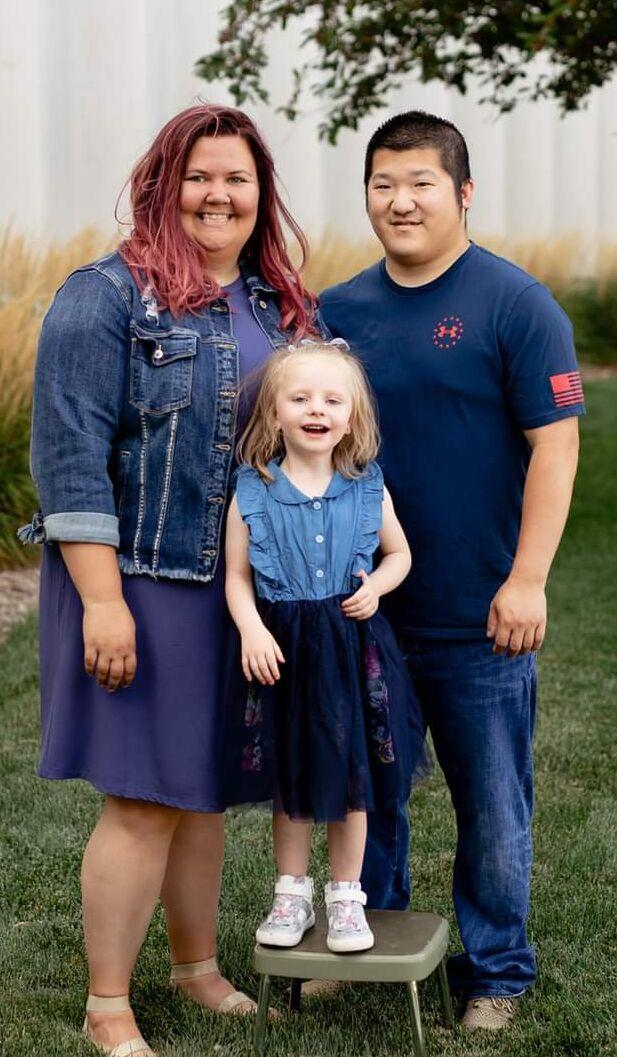 The Tammingas pose for a family photo: (from left) Brianna, Shyanne, 4, and Jordan. Brianna and Jordan adopted Shyanne through the foster care system when she was an infant.

Photo submitted

Brianna and Jordan couldn't rely on Shyanne to alert them to her needs, so they moved her into a pack 'n' play in their bedroom overnight. Brianna would lie awake, listening to Shyanne's breathing through the monitor they used despite her proximity, attending to her smallest movements.
"I remember two months in, Shyanne cried in the middle of the night for the first time," Brianna said. "I said to my husband, 'She's crying! She trusts that we're going to come get her!'"
In terms of development — mobility, alertness, communication — Shyanne went from the capacity of a newborn to the capacity of a 1-year-old in about three months' time.
"We worked really hard to get her all caught up — walking, talking, babbling, running and finally crying," Brianna said.
"Now, we can't get her to stop talking," she said, describing her daughter as "a normal, healthy 4½-year-old who thinks she's 14."
Brianna knows from experience that trauma doesn't heal completely, though, and Shyanne still experiences anxiety. Furthermore, not all children see profound gains in a short period of time once they're removed from an unsafe situation.
As much success as they've seen with Shyanne, Brianna's role as a social worker is, first and foremost, to support families before their situation requires the removal of their children.
"A lot of what we do is connect people to resources," Brianna said. That means knowing which therapists are equipped to address particular situations, which substance abuse support groups would be the most helpful, which health care provider can meet a family's needs.
"We live in communities that are maybe more apt to hide things," Brianna said. "We think, 'What happens behind my door is my problem.'" The system is designed to bring those things to light, so that healing — whatever that looks like — can begin.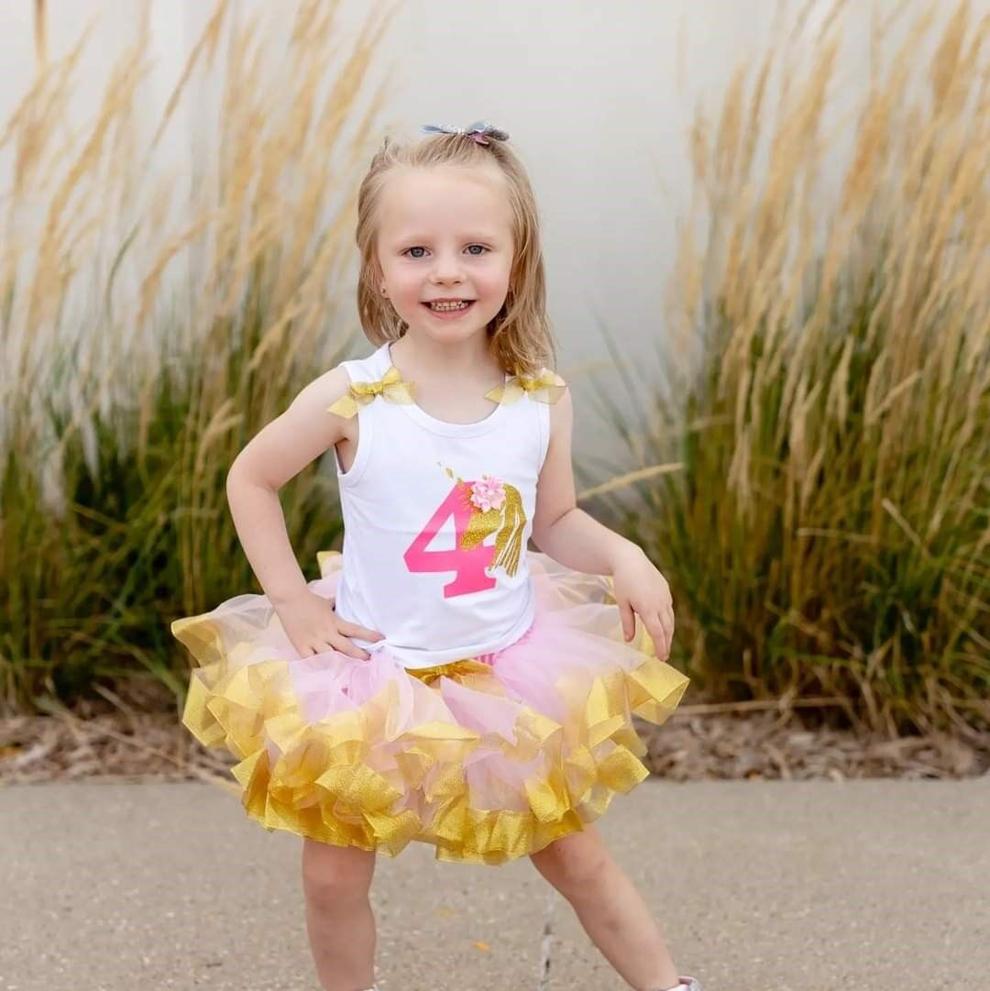 Shyanne Tamminga, 4, poses in a tutu. Shyanne experienced developmental delays as an infant, but once she was placed with the Tammingas through the foster care system, her development accelerated, and she quickly learned to walk, crawl and cry.

Photo submitted

Even when reunification isn't possible, Brianna said maintaining contact with biological parents or family members is a priority.
The Tammingas stay in touch with Shyanne's birth father, but they are unsure of the whereabouts of her birth mother. Even the best outcomes, in the experience of many in the foster care system, are sometimes a dim reflection of "the ideal."
Even when reunification is possible, one family's restoration can mean the fracturing of another. One family's joy is sometimes another family's grief.
The Ebels
Kelsi Ebel is the younger sister of Alissa Kroeze, featured in the second part of this series. The two sisters grew up in Sioux Center and their parents started taking in foster kids around the time Kelsi started high school.
Kelsi was a "little parent" to many of those kids, quieting their fears in the middle of the night, combing their hair, listening to their stories. Her boyfriend at the time, Drew, now her husband, was involved, too, and their involvement continued through the time they graduated from Northwestern College in Orange City, got married, and headed to the Twin Cities.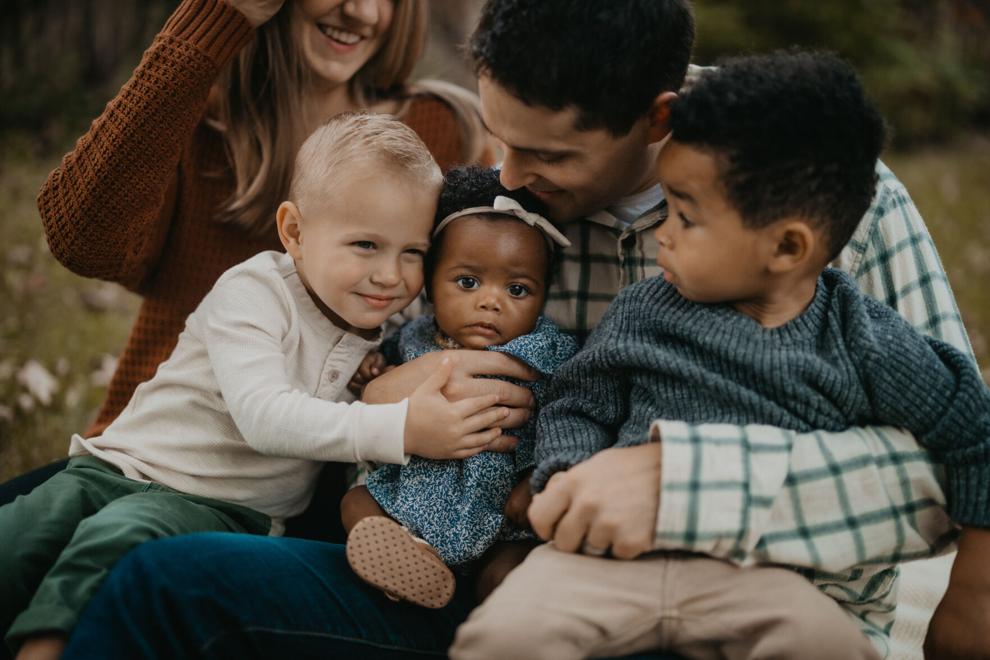 The Ebels pose for a family photo: (from left): Kelsi, Baker, 3, Indie, 1, Drew and Ridge, 2.

Photo submitted

"Just knowing there were thousands of other kids out there, we felt like we didn't have an option," she said. "We knew, this is something we have to do."
The Ebels recently moved back to Sioux Center to open Core Chiropractic Center, where Drew is a chiropractor and Kelsi works in the office part time. However, in the early years of their marriage, they took in one foster placement after another, at times caring for two infants at once, adding toddlers to the mix, addressing trauma and neglect, trying to hold it together.
Eventually, they adopted two children through the foster care system — Ridge, now 2, and later his biological cousin, Indie, 1. Seven months before Ridge came home, they also had a biological child, Baker, 3.
Before their family took its current shape, the Ebels experienced the particular kind of grief foster parents risk when they open their hearts to children who may not stay. They had two foster placements, biological siblings, that they raised from infancy and hoped eventually to adopt.
The courses for foster care licensure push this point: the system prioritizes reunification, and foster families must be ready to say goodbye to children who can safely return to their families.
Kelsi knew this, and already had placements come and go. However, she said different circumstances form different expectations — and anyway, sometimes there's no governing a human heart.
"After they had lived with us for two years, they went back to their mom," Kelsi said.
It was a total shock. Kelsi was sitting in the courtroom for a permanency hearing, 36 weeks pregnant and alone, when the judge made the ruling.
"My entire body went numb," she said.
She remembers driving home and seeing the skyline of downtown Minneapolis, where her foster kids now, suddenly, lived.
"I felt punched to the gut. I thought, 'My kids are out there; they're probably looking for me,'" she said.
Until that point, the Ebels' two foster children had spent no more than two hours at a time with their birth mom. Along with everything else, Kelsi and Drew, who are white, had worked hard to earn the trust of their foster kids' biological family members, who are black — given the racial tensions running through the nation, the families had met the Ebels with reasonable suspicion.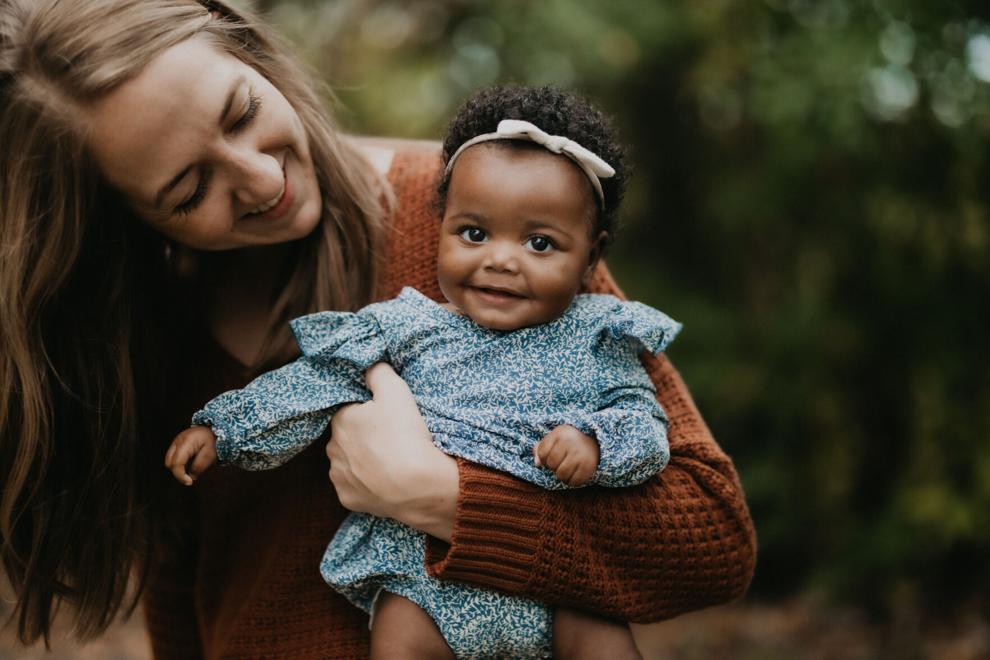 Kelsi poses with Indie, 1, who was adopted through the foster care system.

Photo submitted

Aside from the demanding logistics of foster parenting — the supervised visits, the appointments, the regular calls with the social worker — there also are more ambiguous costs, including grief. Sometimes, the imperatives of the foster care system conflict with the deep attachments that form within it.
Despite their sadness, the Ebels had grown to love the mother of their two foster kids, and they continued to support her after she and her kids were reunified. Still, Kelsi and Drew carry that grief with them. They always will.
Foster parents choose to take in children even when it means enduring uncertainty and risking loss.
"We have to be careful not to have a savior complex," Boer said. "We need to go in humbled — this is hard, righteous work."
Stacie's fight
After adopting Kari, the Snieders went on to adopt two more children through the foster care system, Silas, 7, and Luci, 5, who are biological siblings. The Snieders also had two biological children of their own, Jett, 4, and Oaklee, 2.
In 2020, at the height of the pandemic, their family life was starting to come apart at the seams. Cut off from what few resources they could rely on in the first place, Kari's developmental delays were more than the Snieders could address on their own, and her history as a foster placement only further complicated her struggles.
"It's painful to admit it, but she didn't thrive in the family setting," Stacie said.
They looked into getting her into an intermediate care facility, only to find out Kari's health insurance, through Iowa's Medicaid program, would not allow them to place Kari in the nearest facility, across state lines in Sioux Falls, SD.
Kari ended up in Dubuque, on the other side of the state. Stacie started making phone calls, advocating for Kari's best interests, making her case for whomever would listen. She even tried to contact the Gov. Kim Reynolds.
"I thought, 'I'm going to try to get to the governor herself,'" Stacie said.
She invited the governor to come talk with her at her kitchen table.
Reynolds didn't come to visit, but Stacie was able to get traction with the governor's office — top officials who oversee the Iowa Medicaid program pushed her case through. Kari will move to an ICF facility in Sioux Falls, where her family, who now lives in Orange City, can make regular visits.
"Foster care isn't just this pretty little thing — it's challenging; it's gut wrenching," Stacie said.
Like all the people making their way in an imperfect system, though, Stacie could fight her way toward something better, for her family and her kids.
"My dad told me once, 'You know why you're Kari's mom? She needed someone to fight for her,'" Stacie said. "And he's right. That I can do. I can fight for what's right. I can advocate."
Kari is thriving in her new environment, and while it isn't the picture of family togetherness Stacie imagined at the beginning, she has seen all her kids flourish. That flourishing has been the hard work of love, attention and, for Kari, the right kind of outside care.
"We finally got the best thing for her — because she deserves the best I can give her," Stacie said.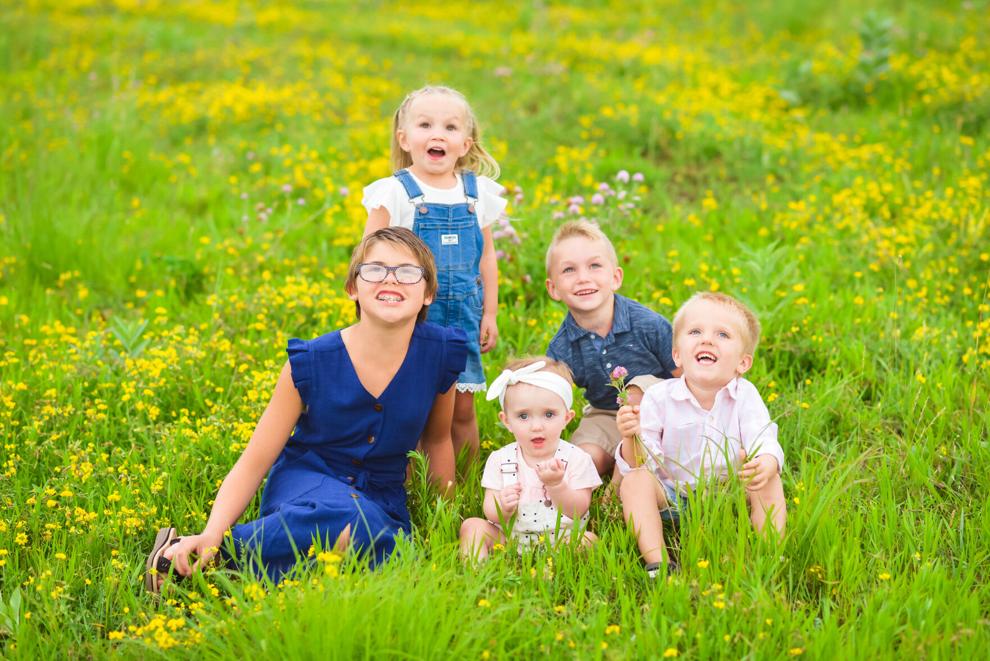 The Snieder children pose together during a family photo session: (from left) Kari, 13, Luci, 5, Oaklee, 2, Silas, 7, and Jett, 4. Kari, Luci and Silas were adopted through the foster care system.

Photo submitted