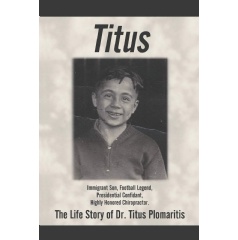 A personal account of the author's long and rewarding journey
Cincinnati, Ohio, USA – WEB WIRE – Wednesday, September 29, 2021
A personal account of the author's long and rewarding journey
?? Titus: The life story of Dr. Titus Plomaritis ?? by Dr. Titus Plomaritis is a gripping autobiography that celebrates the author's long, storied life. These 600-page memoirs follow Plomaritis from his chicken rearing to his football life in high school to his successful years as a chiropractor. Now in his 90s, Plomaritis has led a rewarding and satisfying life. While there may have been some struggles along the way, his journey is one that should inspire and motivate people.
There is never a dull moment in this book as Plomaritis wrote this with the intention of inspiring people. Being an immigrant didn't stop him from following his dreams and achieving his goals. He persevered and became a star athlete in high school and had a thriving career as a chiropractor in his later years. The book is written with a torch and contains 250 photographs that are sure to captivate readers? Interested as they add more information to Plomaritis? rich and interesting life.
?? This was a great book to read. It tells the life, the struggles, the family, the love and the accomplishments that a young man makes in the course of his life. Very well written. The way he tells his story, it never gets boring. It will bring tears to your eyes and bring a smile to your face. In the end, you will feel that you know these people well. I would definitely recommend reading this book. What a wonderful life journey he had ?? shares Katherine, an Amazon customer.
Dr. Titus Plomaritis is a retired chiropractor who had a very successful private practice for 38 years. He first completed his bachelor's thesis at Boston University, where he also played soccer, then received a doctorate in chiropractic from the Chiropractic Institute of New York, followed by a master's degree from the University of Bridgeport. In 1957 he became a certified corrective therapist by the Brooklyn VA Hospital. Named New Hampshire Chiropractor of the Year in 1979, Dr. Plomaritis was instrumental in getting President Jimmy Carter to amend Medicare law that allows 40 million Medicare patients to see a chiropractor without medical intervention. Dr. Plomaritis served in the U.S. Army as a paratrooper in Japan when he was 17. Outside of his chiropractic work, he has coached soccer and worked as a biology teacher, professional photographer and bank founder. The proud father of four children, Dr. Plomaritis, has two sons who are both orthopedic surgeons and his two daughters work in training. He also has eight grandchildren.
Titus: The Life Story of Dr. Titus Plomaritis
Dr. Titus Plomaritis
Paperback | $ 11.99
Copies of books can be purchased from Amazon, Barnes & Noble, and other online booksellers.
(Image of the press release: https://photos.webwire.com/prmedia/78451/279663/279663-1.jpg)
Related links Amazon link
WebWireID279663
Titus


Titus Plomaritis


biography


Plomaritis
Contact information Hunter Reid Production and Finance Manager Good River Print and Media, LLC (1) (757) [email protected]
This news content can be incorporated into any legitimate news gathering and posting endeavor. Linking is allowed.
Distribution of press releases and press releases are provided by WebWire.