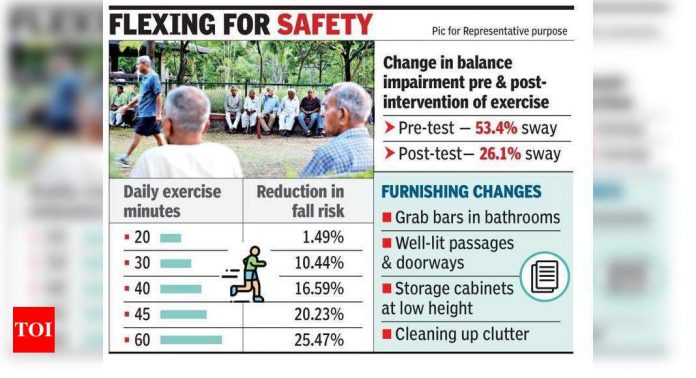 Pune: A two-year study by the Savitribai Phule Pune University Health Sciences Institute showed that seniors' fall rates can be reduced with a few daily exercises and small changes to the furnishings in the home.
The head of the health sciences department, Aarti Nagarkar, started a study on the umbrella topic of aging eight years ago. In 2018 PhD student Snehal Kulkarni began focusing on walking and balance in older adults under the guidance of Nagarkar.
"When we tried to examine reference points for elderly Indian adults for the correct walking pace, we found that no reference point is available. So we decided to find out how we can improve balance in older adults, "said Kulkarni. Nagarkar said they sampled 800 older adults from 14 wards across the city. "We found that women are more prone to falls," said Nagarkar.
Kulkarni said they would put a sensor around the older adults that would measure about 54 gait parameters in them.
"We told them to sit on a chair, stand up, walk 10 feet, turn around, and come down to sit on the chair. We were able to measure and publish the Indian reference points for walking pace (how fast you walk), stride length and cadence (number of steps), "says Kulkarni.
In their 16-week study, they had the 800 people exercise for 30-40 minutes a day and found that their frequency of falls decreased by an average of 40-50%.
Kulkarni, who is also a physical therapist, said seniors should speak to their doctors before engaging in any form of exercise. "Older adults are not allowed to do strenuous exercises that vary physiological parameters such as heart rate or blood pressure. Walking, sit-ups, stretches, balance and coordination and strengthening exercises can all be done after consulting a doctor, "said Kulkarni.