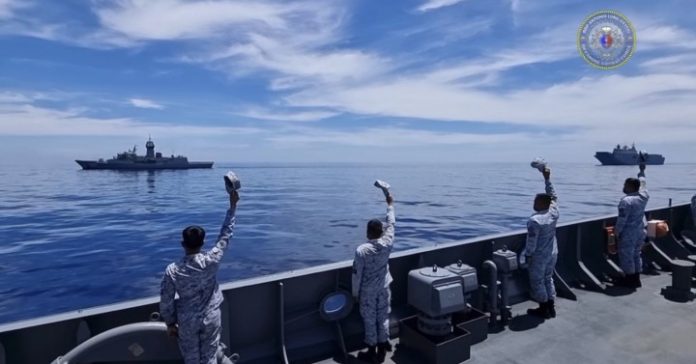 (Courtesy photo of the Philippine Navy)
MANILA – Naval ships from the Philippines and Australia conducted sea exercises over the weekend with the aim of promoting "peace and stability" in the region.
The second missile frigate of the Philippine Navy (PN), BRP Antonio Luna (FF-151), took part in the sea phase of Exercise Lumbas 2021 for "Maneuvering Division" tactics and formations with two Royal Australian Navy (RAN) ships on Saturday in column and side by side using NATO-encoded messages ".
"BRP Antonio Luna (FF-151) will take part in the maritime phase of Exercise Lumbas 2021 on September 26 to strengthen cooperation and promote peace and stability in the region together with HMAS Canberra and HMAS Anzac," a post on the BRP announced the Antonio Luna's Facebook page on Monday.
Exercise Lumbas is a bilateral exercise between Australia and the Philippines.
The exercise focused on high-end training and interoperability that will benefit both nations in increased awareness of the maritime domain and the generation of armed forces.
After the series of maneuvers at sea, the two RAN ships docked with the tanker HMAS Sirius for a three-day visit to Manila, which is part of the Indo Pacific Endeavor 2021 (IPE21).
In a press release, Australian Ambassador Steven Robinson AO said Australia was "very pleased" to have IPE21 in the Philippines.
"This visit reflects the spirit of camaraderie and Bayanihan during our 75th anniversary of diplomatic relations. It also shows the increasing mutual trust and cooperation between the Australian Defense Force and the Armed Forces of the Philippines, "he said of a robust and long-standing commitment with the Philippines to promote a safe, open, prosperous and resilient region."
IPE21 is Australia's premier regional commitment and a demonstration of Australia's support for a peaceful, inclusive and resilient Indo-Pacific region centered on Asean.
Since the end of August, the IPE21 working group has been running a program of activities at sea, training programs and capacity building with the Australian partners in the region.
Around 700 people are involved in the three-month mission, including Australian defense and civilian personnel as well as participants from partner countries.
This includes PN Captain Constancio Reyes, who serves as deputy commander of IPE21.
IPE21 in the Philippines will take place from September 26th to 29th. (PNA)