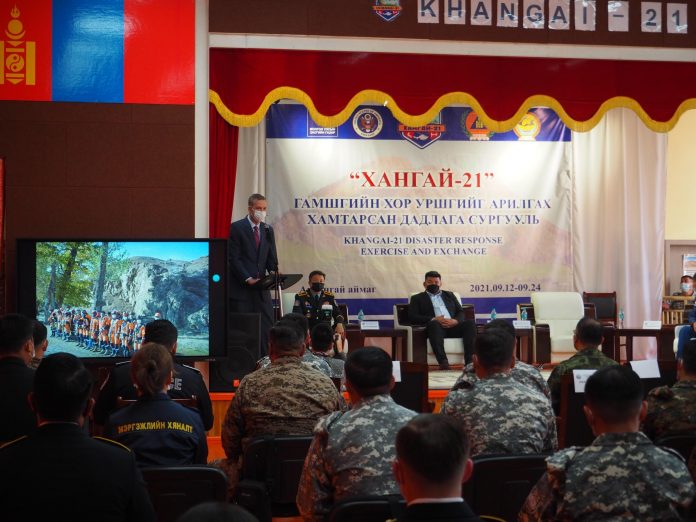 The U.S. Deputy Head of Mission to the U.S. Embassy in Mongolia delivers an opening speech during the opening ceremony of the KHANGAI – 21st Culmination Exercise (CULEX) in Arkhangai Province, Mongolia
Press release
September 27, 2021
For immediate publication
US and Mongolia successfully conduct Khangai-21 disaster response exercise
Arkhangai Province, Mongolia – From September 14-23, the U.S. Embassy civil-military support element organized the Khangai-21 Disaster Response Exercise in Arkhangai Province with the National Emergency Management Agency of Mongolia. In collaboration with local emergency management agencies from Arkhangai, Bayankhongor, Bulgan, Khuvsgul, Uvurkhangai and Zavkhan, US Air Force medical and rescue personnel conducted confined space and height rescue training exercises, along with support training in emergency medicine, crisis communication and emergency management. In addition to the more than 180 Mongolian participants, the defense attachés of Japan, the Republic of Korea and the Republic of Turkey took part as observers.
Due to the risk and frequency of seismic activity in Mongolia, special focus has been placed on earthquake control in order to help Mongolian rescue workers better prepare to provide assistance and assistance to the Mongolian population in the event of such a disaster. The training consisted of extensive classroom and on-site training to safely rescue and evacuate disaster victims from confined spaces and high-angle environments. At the same time, medical staff were trained in triage and treatment of patients in emergencies. In addition, emergency center officials received classroom training on how to efficiently manage and resource rescue and medical personnel; how to communicate effectively with the public during a crisis; and opportunities to work with international non-governmental organizations to provide humanitarian aid. At the end of the training, the participants successfully took part in a large-scale exercise that simulated a real natural disaster.
Due to the COVID-19 outbreak, the United States and Mongolia have been forced to cancel the Gobi Wolf multinational disaster relief exercise, which is held in Mongolia annually. Exercise Khangai-21 enabled US and Mongolian rescue workers to cement their productive partnership in the meantime. The lessons learned from Khangai-21 will feed into the planning of the much larger Gobi Wolf exercise, which is expected to resume in 2022. Khangai-21 has further strengthened the strong ties between the United States and Mongolia while making great strides in preparing Mongolian rescuers to protect and assist the people of Mongolia in the event of a natural disaster.
###