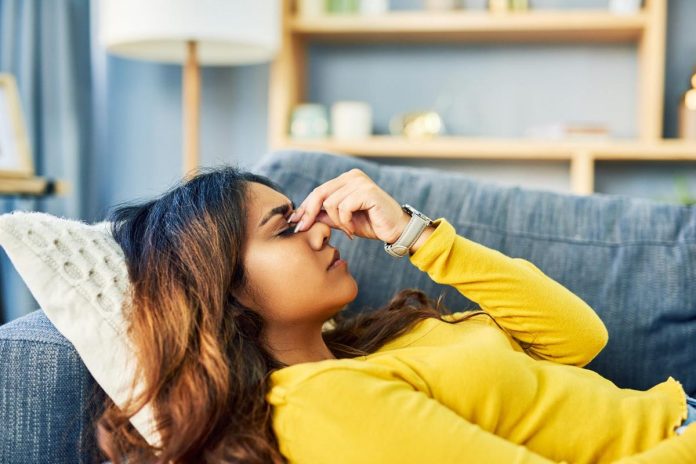 Woman with migraine
getty
On September 28, the Food and Drug Administration (FDA) approved a once-daily oral drug, Qulipta (Atogepant), for the preventive treatment of episodic migraines in adults. It is the second FDA-approved oral anti-calcitonin gene-related peptide (CGRP) drug for the prevention of migraines. The first was Nurtec ODT (Rimegepant), which was approved as an acute migraine treatment in 2020 and received approval in May of this year as a preventive treatment for adult patients with fewer than 15 headache days per month.
As a result of a comprehensive advertising and sales campaign, Nurtec ODT is currently competing with Ubrelvy (Urogepant) for market share in the acute oral treatment sector. In 2019, Ubrelvy became the first FDA-approved oral anti-CGRP drug for acute migraines.
In the area of ​​prophylaxis, there is a threat of a fight between Nurtec ODT and Qulipta. And looking to the future, Nurtec ODT could have a market advantage over Qulipta as an oral prophylactic migraine treatment.
It was originally thought that given the convenience of an oral tablet, Nurtec ODT could erode the market share of injectable CGRP antagonists. But it seems that there is more market expansion than market displacement (the removal of market share from competitors). This makes sense given that of the roughly 38 million Americans who suffer from migraines, only about half take prescription drugs. In fact, the migraine category is a relatively untapped market with an expected average annual growth rate of nearly 10% over the next five to ten years and global sales expected to be around $ 13 billion by 2027.
Migraines are characterized by severe headaches that can last for hours to several days. Before a migraine, up to 33% of those affected have visual, sensory, motor or verbal disorders that signal the onset of an attack. During an episode, a person may have photosensitivity, as well as gastrointestinal, cognitive, and vestibular symptoms. A person may feel dizzy and tired after a migraine attack. Migraines account for more than 800,000 emergency rooms in the United States annually.
In addition to health and cost problems, migraines have significant social burdens; especially loss of productivity and absenteeism.
The most common treatments for acute migraines include the triptans (selective 5-hydroxytryptamine serotonin receptor agonist) drug class. However, at least a third of patients do not respond well to triptans, and in many responders they become less effective over time.
To address this unmet need, 8 migraine treatments have been approved by the FDA since 2018. These include four monoclonal antibodies directed to CGRP – Aimovig (erenumab), Emgality (galcanezumab), Ajovy (fremanezumab), and Vyepti (eptinezumab). All four were introduced as preventive treatments for migraines. The first three are subcutaneous, self-administered injections once a month. Vyepti is a drug administered once every three months by health care providers. In addition, there are now three oral CGRP antagonists (two of which have preventive properties) and Reyvow (Lasmiditan), an oral drug used to treat acute migraines. Reyvow belongs to a class of drugs known as Ditane.
However, with new, more expensive treatment options, reimbursement challenges arise. The cost of novel migraine treatments, with the exception of Botox, is significantly higher than generic triptans and most other migraine therapies (including antihypertensive drugs, anti-epileptic drugs, and antidepressants).
The Institute for Clinical and Economic Review (ICER) conducted an analysis of CGRP inhibitors and found that migraineurs had an overall greater reduction in headache days per month compared to other preventive medications.
In certain patients in whom triptans are ineffective, intolerant, or contraindicated, Nurtec ODT and Ubrelvy are considered comparatively inexpensive as acute migraine treatments by ICER.
The payers are a key arbiter in determining patient access to new treatment options. To limit what they consider to be undue financial risk, payers will divide migraineurs into categories, including types of headaches and frequency, and non-responders versus responders to traditional, cheaper drugs like triptans.
The payers will then review the data on the comparative effectiveness of acute and preventive treatments for different subpopulations. For the monoclonal antibody-CGRP antagonists, there is growing body of evidence of their effectiveness, as shown in the ICER study and elsewhere. Several "number of times needed for treatment" analyzes show that one in five or six patients who take Aimovig benefits from the drug. Less data are currently available on oral prophylactic agents such as Nurtec ODT. According to one study, the number of treatments appears to be four or five, which is slightly better than Aimovig's.
The clinical data, as well as discounts or net prices from the wholesale acquisition costs (WAC), help shape the use of tools to manage insurance forms, such as z-label used and step processing. For example, one of UnitedHealthcare's Step Edit guidelines – Fail-First – requires a member to use a number of lower cost options before receiving coverage for any of the CGRP antagonists; whether injectable or oral. WAC prices for monoclonal antibody anti-CGRP treatments are higher than for oral CGRP antagonist therapeutics. With the exception of botox, the prices of triptans and other older therapeutics are much lower than injectable or oral anti-CGRP drugs.
This could explain why it took a while for CGRP inhibitors with monoclonal antibodies to gain momentum. Gradually they did, as the sales data shows. As convenient, once-a-day tablet options, Nurtec ODT and Qulipta are poised to continue expanding the migraine prophylactic drug market.