Strikes, elections and Dominic Raab: Rishi Sunak's headaches to come in 2023
Aubrey Allegretti
and
Aletha Adu
PM has reinstated 'boring government' but smooth relations with backbenchers are unlikely to last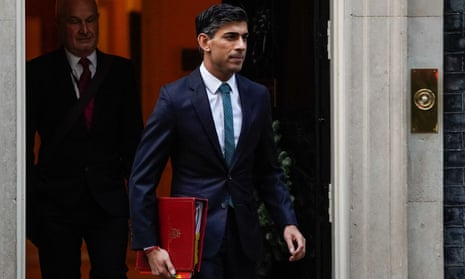 At the end of one of the most tumultuous years of politics in decades, Rishi Sunak is confident he has successfully managed to calm Tory MPs and – in the words of one senior aide – "bring back boring government".
He has sought to kick some controversial pieces of legislation into the long grass, performed quick U-turns and managed to satiate a parliamentary party with a seemingly unquenchable thirst for regicide.
But smoother relations with backbenchers are unlikely to last, with some major headaches awaiting the prime minister in 2023.
Strikes
Sunak has promised "tough" legislation to clamp down on strikes by setting minimum service levels – a plan originally intended to cover rail services that will be expanded to include the NHS. Most Tory MPs are likely to support the move, but it will make for a messy showdown in parliament. Polls suggest the public overwhelmingly back striking nurses and ambulance workers, and blame the government for recent strikes over pay and conditions. Cracks have already begun to show within the Conservative party, too. Several former cabinet ministers are urging ministers to negotiate pay settlements to bring an end to industrial action in the NHS. A refusal to engage with the unions on remuneration could pave the way for more strikes, compounding Keir Starmer's "broken Britain" attack lines and a sense setting in among voters of managed decline. Meanwhile, the GMB union refusal to participate in the independent pay review body's assessment for next year's recommended wage uplift could throw the whole system into chaos.
Local elections
Sunak has been lucky that the first two byelections of his premiership went relatively unnoticed as they were held in Labour strongholds. However, the one major electoral test on the horizon that he cannot ignore is the upcoming spring local elections. Senior Tories in local government expect a trouncing, which would be quite a feat, considering the last time the seats were up for grabs was May 2019. Then, Theresa May was limping towards her final months as prime minister and the Conservatives recorded losses of up to 1,300 seats. Despite the low bar, the Tories are still polling poorly nationally – hovering around the mid-20s in percentage points. Labour has not managed to get over 50% for a month, but the sense of "midterm blues" is likely to be particularly acute this year, given the strain on public services and councils against a backdrop of the highest tax levels in decades.
Investigation into Dominic Raab
As part of his bid to restore credibility to the Conservative party, Sunak promised in his first speech on the steps of Downing Street to lead a government of "integrity, professionalism and accountability at every level". He has already burnt through some political capital by being forced to sack Gavin Williamson, just weeks after handing him a Cabinet Office job, over bullying claims, and re-appointing Suella Braverman as home secretary despite her having breached the ministerial code. The next headache facing Sunak over standards concerns his deputy prime minister, Dominic Raab. Interviews by an independent investigator looking into bullying claims, which Raab denies, have begun. Allegations have piled up – with at least eight formal complaints about the justice secretary's behaviour across three departments. Either Sunak will be forced to sack a close ally and again face questions about his own decision to appoint Raab, or stand by his deputy and risk more damaging leaks about alleged poor behaviour.
Education
Nick Gibb returned to cabinet in Sunak's first reshuffle in his old job as schools minister. Many Tory figures with strong feelings about the exams system fear his return will halt their plans to push their proposed changes to the top of Sunak's agenda. Moderate Tories who have previously advocated for year 6 exams to be scrapped are expected to launch a number of campaigns in the new year, putting pressure on Sunak and the education secretary, Gillian Keegan, to consider scrapping them or making them less formalised for entrance into secondary school.
Immigration
Get a grip on the Channel crisis or risk losing the election, Sunak has been warned since he got the keys to No 10. With Starmer striving to appear very tough on tackling the crisis, the prime minister faces intense pressure to ensure he can get the Rwanda policy over the line from his colleagues sitting on the right wing of the party. One senior Tory feared chaos would ensue over this issue, after speaking to the then former chancellor during the summer leadership contest. Sunak was asked by the moderate Tory on his ideas for solving the crisis, to which he struggled to respond with a straight answer. "He didn't have a clue," the source told the Guardian. Sunak faces mounting pressure from Boris Johnson and Priti Patel to resort to leaving the European convention on human rights in order to ensure the Rwanda scheme can run, but this would be extremely unlikely to be backed in a Commons vote.
Energy bills
Sunak and his chancellor, Jeremy Hunt, have vowed to be compassionate and help the poorest Britons as inflation and energy bills skyrocket. While households will receive support for bills until April 2024, the pair are yet to decide, and have even delayed making a decision, on how vulnerable businesses will fare, as there was no mention of support for small businesses beyond April 2023. A number of Tories in "red wall" seats have said businesses in their constituencies will go bust or be forced to close if they do not get guaranteed support. Sunak championed financial responsibility in the latest budget, and will want to avoid overspending. But even if he did lend support, it has been noted that it could not be more generous than what is currently in place, creating a significant headache in seats he will want to retain at the next election.
Topics
Conservatives
Industrial action
Dominic Raab
Immigration and asylum
UK cost of living crisis
Energy bills
analysis