Knorr Nutri-Sarap Nutrition Maternal Empowerment Program
to create nutritious and tasty dishes.
Unilever Philippines forges a landmark partnership with the Department of Social Welfare and Development – Calabarzon to launch the Knorr Nutri-Sarap Nutrition Program in the region.
In line with its pursuit of nutritious and delicious food that is accessible to all, Knorr Philippines recognizes that it plays a key role in creating food choices that are good for Filipinos and the environment.
The pandemic has profound implications for food security and access and consequently affects the health and nutrition of the most vulnerable sectors. Malnutrition remains a nationwide threat to health and wellbeing.
Challenges for a Healthy Filipino Household
The Department of Science and Technology – Food and Nutrition Research Institute conducted a Rapid Nutrition Assessment Survey1 in 2020 to examine the food and nutrition security situation in the country amid the pandemic.
The results showed that six out of 10 or 62.1% of the households surveyed reported "moderate to severe" food insecurity, and that this was highest in households with children and pregnant members.
Ensuring proper nutrition is paramount to families and the institutions charged with maintaining well-being, but it is especially important now as we make every effort to strengthen immunity to avoid contagion with COVID-19 and other diseases to avoid.
Even before the pandemic, it was reported that every second child under the age of five was suffering from malnutrition at the peak of their development, which could be permanent, irreversible or even fatal.
Knorr Nutri-Sarap in Calabarzon
The two main causes of the prevalence of malnutrition are a lack of proper nutrition education and a limited budget to prepare nutritious meals. As a result, low-income families resort to cheaper food alternatives that often do not provide adequate nutrition.
For nearly two decades, the Knorr Nutri-Sarap Nutrition Program has been committed to providing good nutrition and access to food for every Filipino, and has impacted the lives of 1.5 million Filipino children who were previously malnourished.
The program's modules are designed to help mothers make healthy and sustainable choices for their families through nutritious, delicious, and affordable home-cooked meals.
The program aims to educate families about nutritious eating and cooking with a 21-day nutrition plan to start building healthy habits. It also provides a clear path for Knorr to continue empowering communities to improve their health while ensuring the sustainability of our food resources.
Unilever recently signed a Memorandum of Agreement with DWSD Calabarzon to bring the Knorr Nutri-Sarap Nutrition Program to the region. The partnership was sealed by a virtual signature, in which important partners took part under the direction of DSWD Regional Director Marcelo Castillo and DSWD Pantawid Program Manager Nellibeth Mercado. Unilever and DSWD want to help over 200,000 children in the region with this program.
Unilever Philippines brings its Knorr Nutri-Sarap Nutrition program to Calabarzon in partnership with DSWD Calabarzon and its communities. Unilever and DSWD want to help over 200,000 children in the region with this program.
"The Knorr Nutri-Sarap Nutrition Program simplifies meal planning and preparation and empowers our mothers in the community to make healthier choices for their families. Let's make Nutri-Sarap the food of every Filipino family for a healthy future together, "said Bindoy Baltazar, Marketing Director Foods of Unilever Philippines.
Unilever will prepare and provide learning modules, conduct a 21-day training program at home with the nutri-journal and provide access to nutrition experts. DSWD, in turn, will link Unilever with Pantawid Pamilya's beneficiaries in the region and provide guidance and support needed to make the program successful.
"In line with Unilever's new Compass Strategy, we believe that the Knorr Nutri-Sarap Nutrition Program can help address positive nutrition to help people, especially our vulnerable populations, make the transition to healthier diets Ed Sunico, VP Communication at SEA.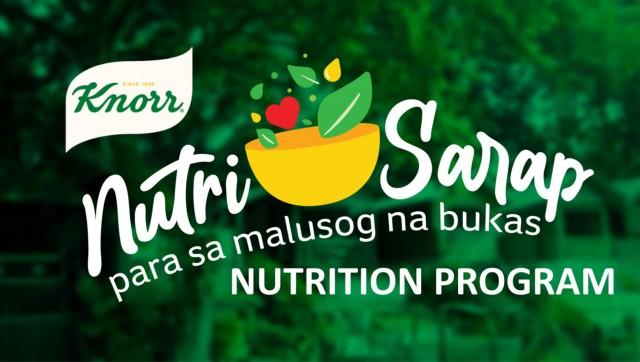 The Knorr Nutri-Sarap program aims to educate and empower families about nutritious eating and cooking through a 21-day nutrition plan
Unilever's Targeted Brands
The launch of the Knorr Nutri-Sarap Nutrition Program is a testament to Unilever's commitment to expanding its portfolio of targeted brands that will be a force for good, driven by purpose and innovation.
By being an active member of Pilipinas Kontra Gutom, Unilever also works with government, NGOs, academia and the private sector to combat and eradicate involuntary hunger in the Philippines.
These targeted brands communicate a strong social or environmental purpose with products that help achieve the company's ambitions, improve the health of the planet, contribute to a fairer, more socially inclusive world, win with differentiated science and technology, and health of people to improve. Trust and wellbeing.
While all of Unilever's brands are on the path to sustainability, targeted brands like Knorr are among those moving forward.
This is a paid press release from Unilever Philippines.