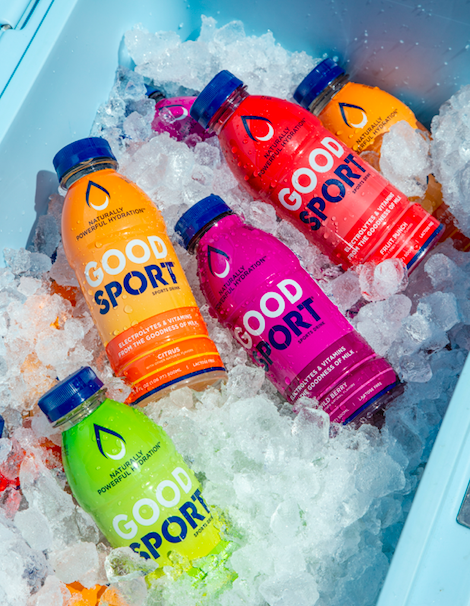 My professional career has spanned the legal and nonprofit sectors and these experiences shaped my work as the founder and CEO of GoodSport Nutrition.
I went to law school straight out of college and started my career as a litigator in Chicago. I worked as a lawyer for several years before I was recruited for a start-up in the legal technology sector. Leaving the legal practice was a difficult decision. You spend so much time and effort in law school and feel like if you go away, you won't be able to come back. But when I took the plunge, I knew I would never go back. I found that I loved the business side of things and was successful in business development.
In 2007, I was introduced to a group of women who had started a new cancer research organization called the Noreen Fraser Foundation (NFF) and were planning to produce a television special to raise funds for translational cancer research. NFF has partnered with the Entertainment Industry Foundation to air the televised special, Stand Up to Cancer, and raised over $ 100 million in the opening year. I helped align the group with Major League Baseball and oversaw our partnership with the league.
What I thought was a year-long passion project turned out to be eight-year directing the Noreen Fraser Foundation, where we held our own events to fund translational cancer research in women. From this experience I learned the importance of the purpose that has guided my work ever since.
After NFF, I spent two years with another nonprofit and our offices were in one of Chicago's premier venture capital incubators. I was surprised and inspired by the surroundings. Companies would apparently grow from 3 to 300 employees overnight. The energy was electric and the room was filled with incredibly intelligent people from diverse backgrounds. This experience undoubtedly contributed to my entrepreneurial itch, so when I had the idea for GoodSport, I didn't just put it in the "Somebody should do it" department, but tried it out straight away.
I have three children and my son played baseball from an early age. Apparently, he was served one of the premier sports drinks at every game. I didn't want him to drink them because they are filled with artificial ingredients and too much sugar. We tried the natural sports drinks but he didn't like the taste and I learned that they don't provide hydration beyond plain water.
Athletes of all skill levels faced the same predicament. They had to make do with sports drinks that were either filled with artificial ingredients or did not provide effective hydration.
I had read about athletes who drank chocolate milk to relax and brought it back to my son as a healthier alternative after his games and workouts. It wasn't the thirst quenching solution we were looking for, but it was the inspiration to use milk as a source of fluid during physical activity.
Through research, I've learned that milk is filled with the essential electrolytes needed for optimal hydration, and that studies have shown that milk is much more hydrating than traditional sports drinks and water. With that information, I set out to create an all-natural sports drink made from milk that was really effective in hydration.
It wasn't an endeavor that I undertook alone. My partner Andy Friedman, founder and former CEO of SkinnyPop Popcorn, provided important advice and advice. The lawyer in me realized that we would need an exercise hydration expert to guide us. Dr. Bob Murray, PhD, FACSM, the co-founder and former director of the Gatorade Sports Science Institute, joined our team to oversee the formulation and ensure our claims are scientifically based.
We also worked closely with the University of Wisconsin's Center for Dairy Research and their senior food scientist, KJ Burrington, to learn how to ultrafilter milk to remove its protein and use its electrolytes, vitamins, and carbohydrates to make a sports drink and to do it sustainably by upcycling a component of the milk.
It took nearly five years of research and development with teams of scientists to crack the code of how to deliver the hydration benefits of milk in a clear and refreshing drink. With three times more electrolytes and 33% less sugar, we knew we had a naturally strong hydration solution on our hands, but we haven't rested on our laurels, we put the product through rigorous scientific tests to prove the product's effectiveness, so that athletes can trust GoodSport to provide quick, long-lasting hydration and improve exercise performance.
It's funny because I almost didn't pursue the idea at first – quitting my career to pursue something as extraordinary as making a sports drink out of milk seemed insane – that is, until I leaned on my nonprofit experience and realized that I can use the brand as a good platform. At my son's games, it wasn't just the sports drinks that worried me, but also some of the negative behaviors I observed on and around the field where the mentality of winning at all costs was pervasive. It is a problem that persists throughout youth sport and results in children dropping out of sport at an increasingly younger age. The role of sport cannot be emphasized enough – it promotes lifelong healthy habits and teaches important life skills such as teamwork, leadership and perseverance. It helps bridge race and gender gaps, reduce teen drug use, increase high school graduation rates, and the list goes on and on. And so, GoodSport Nutrition is committed to creating a more positive sports culture that aims to attract (and retain) more people to the game.
Our motto is: Greatness begins with goodness, so in everything we do, GOOD is the focus.
GoodSport is now available in retail stores across Chicagoland, on Amazon and on our website goodsport.com. We are proud to say that GoodSport (r) has been accepted by athletes in the NFL, NBA, MLB and is an official hydrator of Chicago's WNBA team, the Chicago Sky. Above all, we are delighted with the overwhelmingly positive response from consumers to our products and the brand's mission.
Career FocusFemale FoundersLeadershipWomen EntrepreneursWomen in BusinessFemale Founders