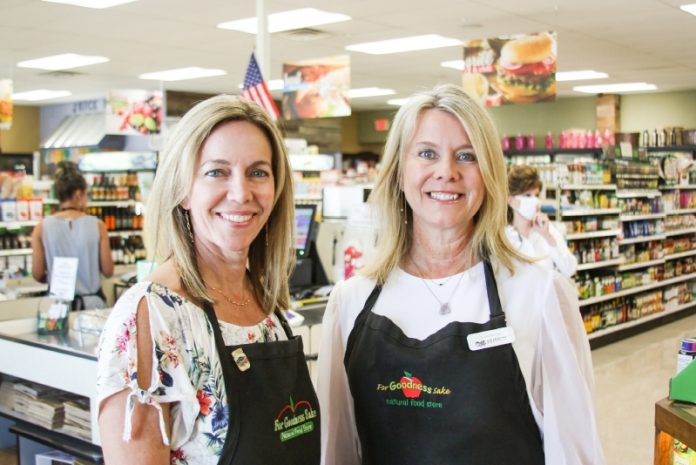 From left: Lauren Krock and Shannon Hanz own the shop. (Lauren Canterberry / Community Impact Newspaper)
In 1976 Beverly Krock For Goodness opened Sake Natural Foods in Del Rio, Texas with the aim of selling organic and natural products.
In 1991 the store opened a location in New Braunfels on Common Street, and in 2006 Krock's daughters, Lauren Krock and Shannon Hanz, took over ownership and operation of the store.
"We just grew up in this business," said Lauren Krock. "We're doing this from the start and it's nice how it has grown and the community has supported it."
The store sells a variety of goods, including loose herbs and spices, vitamins, personal care products, fresh groceries, and dry goods, Krock said. Customers can also buy fresh drinks at the organic juice bar. While working at another health food store in California, Krock said she learned key skills that helped her run For Goodness Sake more effectively, like the importance of changing offers and adding new items to the shelves.
"We keep changing it and keeping it fresh," she said. "I think people like that and that brings them back."
As Krock and her team work to supply every department of the store with new items, customer demand for vitamins and nutritional supplements to boost the immune system has increased in recent months.
Many of the store's staff have worked there for more than 10 years and are well trained in the store's inventory, a factor that Krock says sets the store apart from other grocery stores in the area.
"We have training with vendors who come into play," said Krock. "So we learn, and then we help people learn too."
The employees regularly help customers to find the best product for their needs and to get to know their regular customers by name, says Krock.
"It's rare these days to go to a store and call people by name," said Krock. "You come in here and it's like, it's just nice to be recognized."
For God's sake, natural foods
1306 Common St., Ste. 101, New Braunfels
830-606-1900 | www.naturalfoodsnewbraunfelstx.com
Opening times: Mon.-Sat. 9 am-6.30pm, closed on Sunday.