Kyle Odom's friends told her they were looking for prescription drugs to deal with the kind of trauma-inducing events she went through in the run-up to the pandemic.
Instead, Odom turned to an ancient healing practice that she now shares in her role as a Reiki energy practitioner at the Restoration Center in downtown Battle Creek, where therapists specialize in trauma and PTSD, addiction, and family conflicts.
"I've had two pretty traumatic events in my life," says Odom. "At the end of 2018, my son was on trial for his involvement in a crystal meth ring. He's my only child and it was hard to get through. After that, I met someone online and thought we were going to be together forever, and then I got a call from Homeland Security that this person was part of a fraud ring. He told me how he needed money on a project and that I would get it back when the project was over. "
Through Homeland Security, she learned that the real "project" was to push Odom for $ 500,000 – her entire retirement plan.
Given the reality of selling her Kalamazoo condo and starting over financially with her only child serving a 20-year prison sentence, Odom says the temptation to seek a drug-induced quick fix was there. But in the back of her mind she was looking for alternatives, a mindset that was instilled in her as a child growing up in a house where Christian Science was the predominant religion.
Sherrie Schanzenbaker in the restoration center.In 2019 she took a guided meditation course at Choices Unlimited Inc. in Richland. A Reiki teacher there and a woman who had a medical intuitive practice realized that Odom was gifted on a spiritual and energetic level and encouraged them to make the best of both.
Reiki is a Japanese form of alternative medicine called energy healing. Reiki practitioners use a technique called palm healing, or hands-on healing, in which a "universal energy" is transmitted through the practitioner's palms to the patient to promote emotional or physical healing.
"After taking these Reiki classes, I started practicing with family and friends and I saw something there that I could offer people," says Odom. "After an hour I was working on one of my Reiki teachers who was in pain and she said she could feel the bones in her back move and the pain was gone. I could take her energy to help her. We all have the ability to heal ourselves. Some people are not open to it, but we all have the opportunity. "
Odom saw evidence of this as a child when she watched her grandmother, a Christian Science practitioner, heal people.
"In my DNA, it has always been important to me that people have fewer fights in their lives. Most religions don't teach you to think outside the box, "she says. "My foundation in Christian Science taught me to think outside the box. I am really open to all modalities that people can use and have access in order to lead a richer life. "
At some level, Odom says that she has always used her spirituality to help others. In 2016, she participated in one-on-one spiritual talks and volunteered at the Michigan Youth Challenge Academy at Battle Creek, where she helped youth in the program overcome the difficulties they faced. She says a number of these young people have been adopted and have problems with rejection from their families.
She does not ask many questions with these young people and those who visit them now at the Restoration Center or at events on the subject of healing, but rather looks at what their spirit or the universe reveals to her. She will be part of a group of more than 30 practitioners attending the The healing exhibition from Friday through Sunday at Lakeview Square Mall.
In addition to interacting with practitioners, attendees can take part in workshops on topics such as breath work and shamanism, says Sadie Galvin, coordinator of the Healing Expo and owner of Sadie's Sourcery in Sherwood.
Odom says she will be offering Reiki sessions at the expo in addition to recent work she has worked with Frequency healing, which measures vitality in different areas of the body and mind and shows the location of blockages that may prevent these areas from functioning optimally. After blocked areas are identified, specific frequencies of sound are used therapeutically to manipulate human brain waves to promote healing of the body and mind. Sound frequency healing has been used to treat a number of different types of ailments such as insomnia, anxiety, depression, and nervous system disorders Spirit is the master website.
Odom uses a device no larger than an Oreo cookie that is connected to wires attached to bracelets that fit around each wrist. This device scans the body and creates frequencies that tell it what is going on with a client from a physical point of view.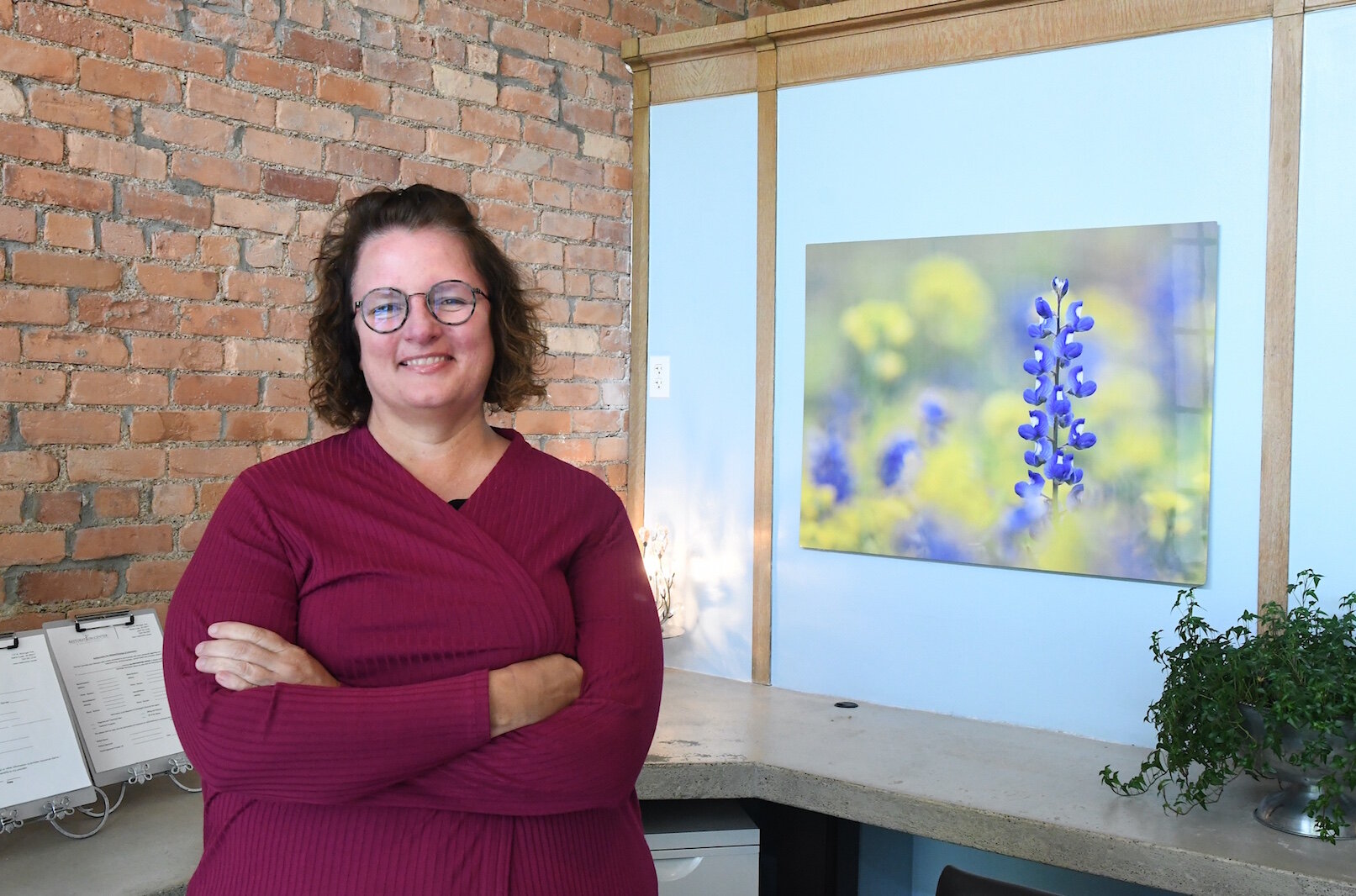 Sherrie Schanzenbaker in the restoration center."I do research and try to find out what the core problem is that drives the rest of what is going on with this person," says Odom. "I feel a feeling and I put my hands there and when I feel a blockage I put my hands there until it disappears. The frequency works in the background while I do the energy work. The frequency is like charging our phone, the body has to be charged correctly in the same way. "
The nice thing about the energy and frequency is that it has no restrictions or limits, much like air, she says.
The majority of Odom's clients wish to explore alternative ways to deal with situations that can be emotional, spiritual, or physical. Knee and back pain, as well as sciatica, are among the physical ailments that lead people to see it.
Bring other skills into the mix
Odom says she knows that there are people who consider their healing practices to be unorthodox and view the results with suspicion and suspicion. She says that her thought process is based on a lack of knowledge. She says what she's doing now has been happening in other countries for centuries, especially in Asia and the Caribbean.
Sherrie Schanzenbaker puts an item in the sandpit in the Restoration Center
Although she was building a client base and offering virtual and face-to-face sessions, Odom wanted to find a space of her own for her practice. She found that at the Restoration Center, where she has been since June 1st.
"Kyle came to me looking for space," says Sherrie Schanzenbaker, owner of the Restoration Center at 115 Michigan Avenue. "I was looking for a massage therapist, but I knew an energy worker was who we were have here, complement and be part of the healing team.
"I knew it would fit well in our practice and be well balanced. When you come to terms with trauma, it is a nice combination of healing and recovery to have someone who can do energy or body work along with psychotherapy. "
Schanzenbaker, born and raised in Battle Creek, is one of five therapists at the Restoration Center, each with a specialty, including LGBTQ plus teenagers, marriage and family, addiction and trauma. She says the center offers the flexibility to work independently, but is also a place where therapists can come together to share expertise when a family or individual is dealing with multiple issues.
For example, Schanzenbaker says when a family comes for therapy there are often relationship struggles caused by unique situations experienced by each and every family member who is rooted in trauma or addiction.
After the pandemic, therapists see many clients with relationship problems and teenagers struggling with eating disorders caused by anxiety and social media interactions. Schanzenbaker, a foster and adoptive mother, says children who were able to resume activities such as exercising or dancing fared better than those who were limited to virtual interactions.
"I can go to another therapist here and include them in the conversation about what's better for the client," she says.
The Restoration Center on Michigan Avenue in downtown Battle Creek.To expand the services and options offered, a Spanish-speaking social worker will be added to the Restoration Center. Schanzenbaker says the social worker is also a therapist who enhances the Restoration Center's ability to serve the marginalized individuals in the community.
"Insurance companies are more likely to pay a social worker than a licensed therapist to work with people on Medicaid who are also part of this marginalized community. This gives us more opportunities to reach someone through Medicaid. That's a nice addition, "says Schanzenbaker.
In total, between 90 and 100 people are treated each week by the five therapists at the restoration center, four of whom work part-time and have other jobs. As is the case with therapy practices across the United States, Schanzenbaker says her capacity is full, but she will not turn anyone away.
As the only full-time therapist, Schanzenbaker has a weekly client load of 40 and often sees clients in the evenings and on weekends when their children are busy with practices or other activities. About 15 percent of those she sees are unable to pay.
"I think when you have found us there is a reason and I will not turn anyone away," says Schanzenbaker.
Besides Battle Creek, their clients come from other cities like Albion, Kalamazoo or Jackson because they may not feel comfortable seeing a therapist in their own community.
Schanzenbaker says she purposely looked for a downtown location because of its proximity to the freeway and neighborhoods where people have access to buses. The restoration center has been in its current location for three years. Previously, Schanzenbaker shared with another therapist on the other end of Michigan Avenue for five years.
"When our lease ended and I was wondering what's next, I knew I wanted a place where we could help every part of us – mind and body. It is our wish to meet people where they are, "she says.
Due to the COVID-related isolation people lived in, they had to be with their problems. There was little to distract her. This is one of the many reasons why psychotherapy and alternative healing methods such as those offered by Odom are opening up, says Schanzenbaker.
"I hope we stay on this path and say therapy is just as important as seeing a doctor and a natural part of the growth and healing process," she says. "I want our building to be a sacred and calming place, and I know when the time is right, the right people will show up to add to our offerings. I think that's how it should be to work together in a healing community like this. "