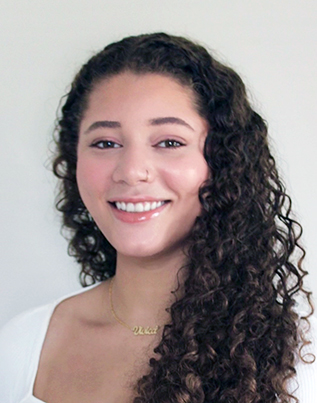 LOCK HAVEN – Vivica Torres is the first recipient of the Lock Haven University George Floyd Fellowship. Born in Clarksville, Tennessee, she is starting her senior year at LHU as a business economist specializing in management.
Torres received the George Floyd Fellowship not only for her academic achievements, but also as a result of her community engagement and the diversity-based initiatives she was involved in on campus. She is a member of the Black Student Union, the Latino Student Association and the Multicultural Activities & Advisory Council.
One of Torres' proudest accomplishments while at LHU was a group initiative where she teamed up with other members of the LHU student body to educate minority students about sexually transmitted infections (STIs). What started as a class project quickly grew into a larger initiative, with Torres and other members of her group providing students with the education and resources they need to proactively get tested for STIs and do their part for the safety of the Campus to contribute.
"At LHU, I am part of a closely connected campus community that gives me the opportunity to have a more personal academic experience and make great friends for life." said Torres. "I feel like a big fish in a small pond."
Torres' time at LHU did not begin without challenges. When she enrolled at LHU, Torres suffered from spinal stenosis, a herniated disc, sciatica, and arthritis. Due to her disability related to these ailments, she spent extended periods of time in the hospital during her freshman year of college, which resulted in her first year at LHU graduating with a 1.8 GPA. Since then, she has increased her GPA to 3.1.
She said her scholarship helped ease her financial burden and gave her peace of mind, which in turn made it easier for her to achieve her academic goals.
"The scholarship helped me to see that hard work pays off and has motivated and encouraged me to keep striving for the best." She said.
Torres wants prospective students to know that the support system she has at LHU has been instrumental in helping her be successful both in and out of the classroom. She praised members of the Haven Family like chemistry professor Dr. Laura Lee, Director of Diversity, Equity & Inclusion Kenny Hall, and Project Manager, Enrollment and Student Affairs Robin Rockey, are key facilitators of their positive Haven experience.
"Each of them has had a wonderful influence on my success at the LHU." said Torres. "I will appreciate your guidance, advice and wisdom and will carry them with me for a lifetime."
Torres' professional ambitions include attending a Historically Black College or University (HBCU) for a graduate school for a degree in business studies. Her future goal is to become an entrepreneur and invest in other emerging black entrepreneurs and black-owned companies.
For more information about Lock Haven University, visit www.lockhaven.edu, email [email protected], or call 570-484-2011.
Lock Haven University (LHU) is a small, public university on the western arm of the Susquehanna River in the scenic mountains of Pennsylvania. The LHU's experience-based learning approach prepares students for lifelong success. The university has excellent academic programs taught by experienced faculty. Since 1870, The Haven has provided an unbeatable combination of quality, affordability and value for the region, the Commonwealth and beyond.
LHU is a member of the State System of Higher Education of Pennsylvania, the largest provider of higher education in the Commonwealth.
Get the latest news and more in your inbox