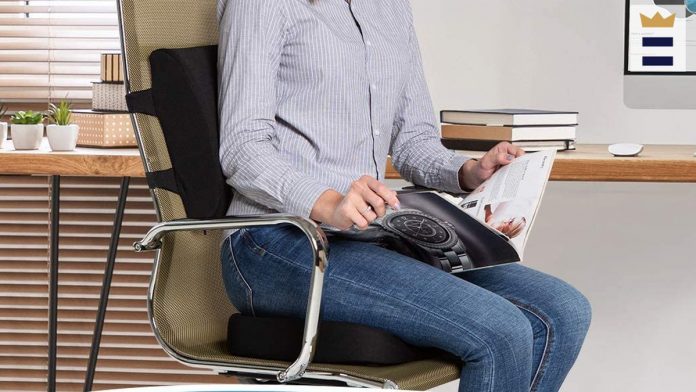 If you are temporarily working from home, you are unlikely to be sitting in a proper office chair. Regular chairs are not intended for prolonged sitting and can put excessive pressure on the lower back and tailbone. An ergonomic seat cushion can relieve this pressure by distributing your weight more evenly. Because it's compact and portable, an ergonomic pillow can move from chair to chair as you complete various tasks, and it can even be used on your car seat. Different pillows meet certain needs over others, but if you want an ergonomic seat cushion that supports both your lumbar spine and tailbone, Everlasting Comfort's gel-infused seat and back cushion is the ideal choice.
What you should know before buying an ergonomic seat cushion
An ergonomic seat cushion does not cure back pain
If you have chronic or acute back pain, it is important to consult your doctor. An ergonomic pillow is not a medical panacea that can eliminate back pain or correct poor posture. However, it should provide support while sitting and temporarily relieve pain.
Some pillows deal with specific ailments
You may want to consider how you want the pillow to work to narrow down your choices. If you are only upholstering a hard wooden chair, a flat pillow will do. For example, if you have back or hip pain, or suffer from sciatica or hemorrhoids, a molded or cut out pillow provides superior comfort and relief. For more information on which product is best for you, see BestReviews' ergonomic seat cushion buying guide.
You may need to adjust your seat height
An ergonomic pillow can add a few inches of height to your chair seat. When buying one for your desk chair, once you have the pillow in place, it helps to check the chair height and adjust it if necessary. This will ensure that your hip and elbow joints are at the recommended 90 degree angle as recommended by the Mayo Clinic.
Ergonomic seat cushion properties
When researching which ergonomic seat cushion is best for you, there are a few features to consider.
For most people, a rectangular pillow with a uniform height is the best choice. Wedge-shaped or cut-out pillows are usually prescribed by doctors or physical therapists to treat certain conditions of the tailbone, spine, or hip. These correction pads tend to be more restrictive and can feel unnatural over time as they lock you in a certain position.
While one of the advantages of ergonomic pillows is their portability, it is really important to choose a pillow that will properly fit on the seat that you use the most. Measure the length and width of each chair and use these measurements to select a suitable pillow size. You want the pillow to sit flat and not hang over the edge of the chair or be too narrow to sit comfortably on.
There are two factors to consider: cover material and insert material. Many pillows have removable covers that can be washed to keep your pillow looking and smelling fresh. A washable insert is an added bonus, but most of the inserts cannot be washed.
For use, you want your pillow to be made of materials that are comfortable and supportive to the touch and also dissipate heat. Some pillows are filled with memory foam, which regains its shape quickly and does not flatten over time. Others contain gel that absorbs and releases body heat. Some of the most comfortable pillows have a combination of both – gel-infused memory foam.
When sitting for a long time, seat cushions tend to absorb body heat. Certain materials, such as cooling gel, can weaken this effect better than others and ensure that you feel comfortable.
Cost of ergonomic seat cushions
There is no great price range for ergonomic seat cushions. You pay $ 25- $ 50 for most pillows.
FAQ about the ergonomic seat cushion
Q. Is an ergonomic chair cushion affected by body weight?
A. Most ergonomic seat cushions are designed to be suitable for everyone, regardless of their weight. If you're on the heavier side, consider a gel-infused memory foam pillow that softens and molds to your shape when you sit, and then returns to its original shape when not in use.
Q. How long do ergonomic pillows last?
A. Almost exclusively, the quality of the materials used determines the longevity of your pillow. Pillows made from high quality gel memory foam will last for years. Proper care and compliance with the manufacturer's instructions will also extend the life of your pillow.
Which ergonomic seat cushion should I use?
The best of the best ergonomic seat cushions
Everlasting Comfort Gel-infused seat and back cushions: available at Amazon
Our opinion: This two-pillow set offers total comfort for both your lumbar spine and your tailbone.
What we like: The gel and memory foam construction provides maximum comfort and support, while traction keeps the pillow firmly in place. A ventilated design works with the gel insert to keep the pillow cool. It comes with a lifetime guarantee.
What we don't like: Some users found the consistency to be too firm and not therapeutic.
Best price-performance ratio ergonomic seat cushion
Feager memory foam seat cushion: available at Amazon
Our opinion: This breathable soft pillow is self-shaping and is said to solve a number of medical problems.
What we like: The cut-out structure provides targeted relief for users suffering from conditions such as sciatica, hemorrhoids and tailbone pain.
What we don't like: Some users found it too soft and uncomfortable to use for long periods of time.
Special mention ergonomic seat cushion
Our opinion: Simple, textured pillow will satisfy most users.
What we like: Features a contoured corrective shape and a non-slip base to keep it firmly on your chair. The gel and memory foam insert is both supportive and cooling.
What we don't like: This pillow was too tight and restrictive for some users.
Bryony Kockler is a writer for BestReviews. BestReviews is a product review company with a single mission: to simplify your purchasing decisions and save you time and money.
BestReviews spends thousands of hours researching, analyzing, and testing products to recommend the best tips to most consumers. BestReviews and its newspaper partners can receive a commission when you purchase a product through one of our links.
Distributed by Tribune Content Agency, LLC.