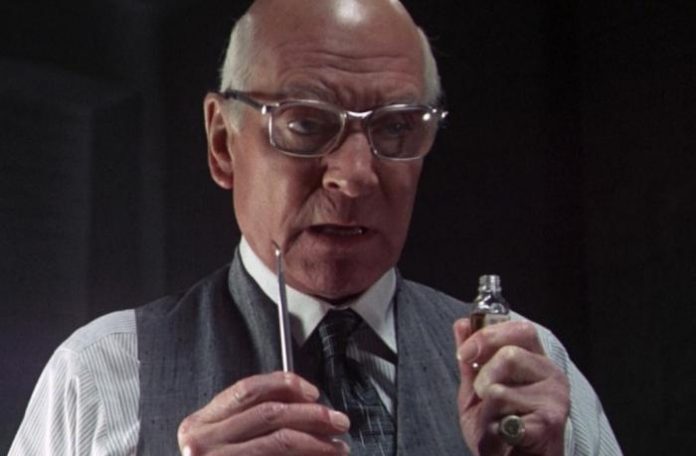 I was fortunate to have never been really badly injured in my life. Until now. I fell back and forth a lot as a kid resulting in lots of scratches and bruises and one really nasty blow to the head playing soccer on concrete, but I've managed to avoid anything more serious than that. So when it comes to physical pain that Twitter prompt turns down –
What was the worst physical pain you have ever felt?
– Varinder Sinngh (@ varindersingh24) September 27, 2021
– I think I was relatively lucky. The worst examples of physical pain I've ever experienced were some smaller kidney stones when I was a kid and an exposed dental nerve a few years ago. With the latter, I was paralyzed on the floor in pain for 48 hours before I could come for an emergency dentist appointment because dentistry in the UK is a joke. That was pretty bad, but after reading some of the following, I'm pretty lucky again …
I was in labor with my daughter, but I had adhesions in my abdomen. As my pregnancy progressed, these adhesions were pulled during labor. The adhesions tore in hers
– pam the butterfly gardner🦋🦋🐛🐛🌺🌹 (@pamkanarr) September 27, 2021
Going to the bathroom with a tear and hemorrhoids after giving birth was almost worse than the birth itself. I really thought I would pass out and die in my bathroom several times. I really wish they had fully warned me how bad it could be for me to buy shares in Miralax.
– Lucy Huber (@clhubes) September 27, 2021
After an abdominal surgery. Surgical scar from navy to pubic bone. Bowel resection and colostomy. I almost died. Was septic after a hysterectomy. 11 days in the intensive care unit. Morphine & Duladid for pain. It always subsided before I got more pain relief. I wanted to die. But I'm glad I didn't!
– Angry Ada (@ryndice) September 27, 2021
Broken collarbone and 3 ribs. It wasn't very painful to keep quiet, but when I went to the bathroom or coughed, I would scream in pain.
– Hear me roar (@ Stop_Trump20) September 27, 2021
I had an emergency caesarean section in an elevator, no anesthesia! My daughter is now a great biology student and political activist ready to change the world! Worth every ounce of pain!
– Cynthia Price (@Cinnygirlx) September 27, 2021
I had a tooth absent, it was a wisdom tooth. When the infection got out of hand, half of my face swelled up. I let it go, but when the pain medication wore off it was amazing how much pain I felt. It felt like half of my skull had been blown away by a shotgun. Dreadful!
– " Stevie Love"🔔🇺🇸 (@ phillyphella76) September 27, 2021
fell off the ladder (home alone) thinking I broke my leg. looked down, it was 90 degrees down from the knee. felt around it was just unplugged. took a deep breath and pulled it back in. heard me say "OWW" in a low voice. I still don't know how I got up and went to the phone
– Annette Padgett (@abbraalso) September 27, 2021
Heart attack when I was 36. I've had broken bones, bad cuts, stitches, etc., but none was as brutal as the heart attack.
– Paul (@paultguitarist) September 27, 2021
It took four days for an almond-sized kidney stone to pass through my penis. It stopped in the end and only came out when I sneezed. The other two followed him. pic.twitter.com/OUKRhmmAiy
– DarkWingDuk 🇺🇸 (@DarkWingDuc_) September 28, 2021
The combination of lumbar muscle spasms with acute sciatica. I took a bumpy bus tour of one of the Caribbean islands the day before and woke up with it. It was so bad that I could hardly move without burning pain. It took 3 of us to take me to the infirmary for toradol and narcotics.
– Jerry's Mama🌊 (@ catcrazy73) September 27, 2021
I broke my nose in a fall when both of my front teeth were knocked out and the tip of my tongue was bitten off and the two teeth also severed my chin. Worst Thanksgiving Day ever. (Followed by a year of root canal treatment to save the two front teeth – no fun).
– Kelly Pop (@KellyPopOut) September 27, 2021
I broke my leg in a car wreck and the ambulances didn't see it and pulled me out of the car by my legs. When they got outside, they saw it and understood what I was trying to tell them. That and a spinal puncture are high on the list.
– Dixie Diva 🇺🇸 🌊🏳️‍🌈 (@ MsDixieDiva8253) September 27, 2021
Dry eye socket after a tooth extraction, paper cut in my cornea, and now I've had shingles pain for six weeks (even after the first shingles vaccination) – all three agree for the top one
– Dixie Young Beer (@DixieYoungBeer) September 27, 2021
I gave birth to my 10 pound son when they had to push him back to loosen the umbilical cord from his neck. No epidural anesthesia, no painkillers. It's like all hands want to be in my va-jay-jay !! Ouch!!!
– Kristine🌊🌊 (@ crazymom93) September 27, 2021
I woke up in an operation.
– Tim Hogan (@TimInHonolulu) September 27, 2021
I once had an abscessed tooth. I drove and it felt like my mouth exploded. I happened to know a dentist's office nearby and went straight to it. I was like a crazy man and they thought I was a drug addict looking for a solution.
– Bret (@whyamidoingtwtr) September 27, 2021
To have to sit very still while Petocin went into labor, those moments were a special kind of hell. A runner-up will need a root canal treatment. I cried and threatened to remove it with pliers if my dentist didn't see me, and I meant business.
– Jax ⚡️Philosopher Queen (@Diamond_Jax) September 27, 2021
Falling off a cliff while riding and letting the horse fall on top of me with your back to me raises your hooves in the air. The horse was fine. I, not so much. ️
– Mon (@ MoLV79) September 27, 2021
I have a nerve disease on my face called trigeminal neuralgia. Sometimes I feel like someone is sticking a screwdriver into my nerve endings and turning it. Good times…
– Ivermectin that COVID is longing for (@ theevent323) September 27, 2021
The ectopic pregnancy bursts. It felt like someone stabbed me and slowly turned the blade while it was still in the wound. Wouldn't recommend
– servicedogtrainer 🐕‍🦺🌒🌕🌘 (@trainerofthe) September 27, 2021
3rd degree burns from chin to ankles, left arm and both hands. Had carcass skin grafts and then autografts with my unburned thigh skin.
– Lisa Sheahan (@ LisaSheahan7) September 27, 2021
The birth was pretty much my climax, but I'll let the bone marrow biopsy be a tie
– jen curran (@jencurran) September 27, 2021
When a 130-foot fir fell on me. Fracture of the left leg, open complicated fracture of the right lower leg, broken pelvis, broken ribs on both sides, 5 fractures in the back, broken shoulder blade, brachial plexus, severe crush injuries on my left side from the tree that was on me for 2 hours.
– Mary, today I'm Fifty Shades of WTF America! (@ 52Katydid) September 27, 2021
Kidney stones. I've had my fair share of accidents of all kinds, but kidney stones surpassed any other physical pain I've ever experienced.
– Patrice (@PatriceBTC) September 27, 2021
I was bitten in the arm by a brown recluse spider. The bite was on my biceps and sore in the morning and by 11:00 am my arm was swollen about the size of my leg. Moving my arm would almost make me pass out. Of course, the nurse reached for it after I told her not to. Ouch
– Brotmann (@ rainwolf127) September 27, 2021
Probably a Christian rock concert when I was in 8th grade. pic.twitter.com/Jv7lSrUbWf
– The Drake 🇺🇸🇨🇦🏴‍☠️ (@if_you_see_kaye) September 27, 2021
← Shameful offshoots of a migration crisis | Ben Warren from 'Station 19' and 'Grey's Anatomy' has the worst career arc on TV →
Header image source: Paramount Pictures