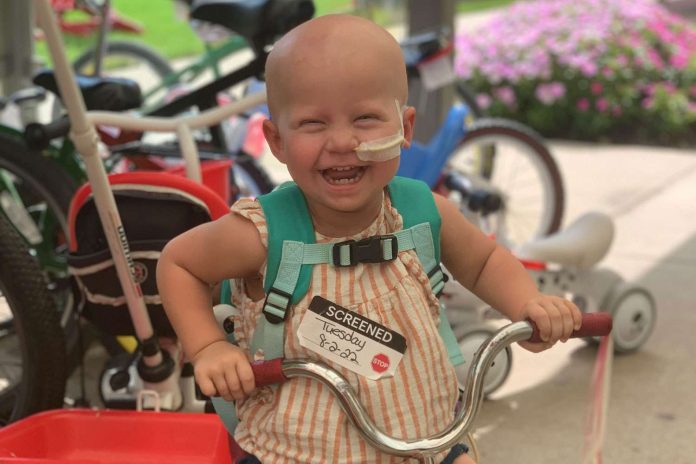 When Virginia mom Nicole Dodge first noticed her now 2-year-old daughter was moving her arm strangely, she never expected days later to hear the diagnosis she did.
In early 2022, the mom of five was sitting in her kitchen when she noticed her youngest daughter, Natalie, was only using the bottom half of her arm. "I thought I was crazy," she tells PEOPLE.
Initially thinking it could be a shoulder injury, Dodge sent a video of Natalie, who was 15 months old at the time, to her husband Andrew, a chiropractor, and to her sister and her husband who are both physical therapists.
"We all came to this conclusion that maybe it was a partial dislocation and maybe it would work itself out if we gave it through the weekend," she recalls. "It was a Friday afternoon, it was the beginning of 2022, so there were still heightened COVID protocols in hospitals. My only option at that point was to go to the ER. She wasn't even crying so that seemed really extreme."
By Sunday, Dodge says there was still no change in Natalie. She planned to wait until Monday to take her daughter to an orthopedist, until Natalie became "completely inconsolable" and was "screaming" after accidentally taking a fall.
"Clearly something is very wrong," Dodge recalls thinking. "I took my four other children to my mother-in-law's house and took Natalie straight to the pediatric ER."
Never miss a story — sign up for PEOPLE's free daily newsletter to stay up-to-date on the best of what PEOPLE has to offer, from juicy celebrity news to compelling human interest stories.
After spending hours at the ER, doctors decided they wanted to keep Natalie overnight to take an MRI in the morning. "They told me that they didn't like the way the bone looked [in the x-ray], that it looked really brittle and that could have been caused by anything from nutrient deficiencies like minerals and vitamins to cancer."
"They said the word cancer, but it was said just in such a passing way that I didn't think that [could be the reason], I thought it was more like they're just telling me every possibility," she recalls.
Dodge and her daughter were admitted that night, where they had to stay in isolation as Natalie ended up testing positive for COVID (though she was asymptomatic). Later that night, they were told that their MRI was canceled as doctors would be doing a differential diagnosis instead.
"We have a really long list of potential things that could be wrong with your daughter, and we have to go through the list one by one and kind of move things out. And I need you to understand that the top two things on this list are both cancers," the doctors told Dodge. "I was like, 'What?' I felt like the rug was ripped out from underneath me."
"They explained to me that they could basically confirm or rule out both of those items with a urine sample and a blood test that they were going to do first thing in the morning. The urine test confirmed Natalie had increased levels of Catecholamines and decided it was prudent to do an MRI that afternoon."
"Eventually we had a biopsy and a CT scan. We had a general idea within the first 24 hours that we were in the hospital that it was likely cancer. We had a pretty good idea about four days in that it was neuroblastoma, but we didn't know how bad it was at that point."
While the biopsy was sent out to a lab, Dodge and husband Andrew waited at home with Natalie for her results. Making things even more stressful, the couple had closed on a new home just two weeks before Natalie's diagnosis.
"When we got home from the hospital, we were at our previous home for about 24 hours. Close friends and family knew that we had a cancer diagnosis and within 48 hours of us being home, there were pickup trucks lined up in our driveway to pick up the boxes and things we hadn't even packed yet. And they moved us into our new home," she tells PEOPLE, beginning to get emotional.
Four days later, the Dodges got the call that Natalie's results were in. "It was high risk or stage 4 neuroblastoma. It's MYCN amplified, which means that her type of cancer grows at 10 times the rate of regular neuroblastoma."
"It was essentially the worst prognosis that we could have gotten," says Dodge. "I absolutely lost it. My husband and I just went to our bedroom and sobbed. It was awful. We felt like there was absolutely no hope at that point."
Dodge says the oncologist told her and Andrew that even if they tried to get into a clinical trial, Natalie's best chance of survival was 50 percent. "We could go through two years of treatment and she could live, or we could go through two years of treatment and she could die."
L: Caption .
PHOTO: Nicole Dodge


R: Caption .
PHOTO: Nicole Dodge

"We felt like the best thing that we could do for her was to give her quality of life in whatever remaining days or months we had with her," says Dodge. "We actually thought we were going to do palliative care. We were going to maybe do some low-dose chemos and help keep her as comfortable as possible. We wanted to take her to Disney World and to see the beach because she'd never been, she'd never seen the ocean before. We were just prepared to live out as many good days with her as we could have."
Dodge says the car ride to their next oncology appointment was the "worst hour of my life."
"How are we going to have this conversation with our doctor about how to help our child die in a respectful way?" she recalls thinking. "We were silent the entire car ride. It was awful."
But when the Dodges arrived for Natalie's appointment, everything changed.
"Our doctor walked right in and said I have some really great news. She said, 'I just got off the phone with St. Jude. I need you to understand that in the last five years that I've been here at this hospital, I've probably tried to get a dozen patients in with them. I've been turned down every single time but within 90 seconds they verbally accepted you on the phone and they want you there on Monday.' And this was a Friday."
"Our whole world just changed in the blink of an eye again," Dodge tells PEOPLE. "I was like, 'Well, what's at St. Jude that's not anywhere else?' And she said, 'They are running studies at St. Jude and their survival rate is over 80 percent.' And I looked at my husband and I said, 'We have to go.' "
Less than a week later, Dodge and her daughter traveled over 700 miles to Memphis, Tennessee, where they would spend more than 10 months receiving treatment at St. Jude's.
When they arrived at the hospital, doctors were able to determine through an MIBG scan that Natalie's cancer had metastasized, meaning it had spread from one part of the body to another. "The primary tumor was in her left adrenal gland, and it metastasized through her lymph nodes; there really wasn't a part of her body that was untouched."
"The secondary tumor was in her left arm. That was the biggest second site of a tumor in her body, which is what caused her to stop moving her arm because it had taken over so much of the bone that it was painful for her to move it," she explains. "But she had tumors in her pelvis, she had tumors in her legs, in her wrists, in both arms, in her skull, in her spine. And it was throughout her, all of her bone marrow."
L: Caption .
PHOTO: Nicole Dodge


R: Caption .
PHOTO: Nicole Dodge

"I look back and I'm like, 'How did we not know?' " Dodge says of how much pain her daughter was in. "The type of cancer she has is very fast-growing. Her blood work when we were diagnosed at the original hospital looked almost normal, like a very healthy person. Two weeks later when we got to St. Jude, it was neutropenic, which means her immune system was so attacked by cancer cells that it wasn't even functioning, and that was just in the period of two weeks."
During Natalie's time at St. Jude, her mom tells PEOPLE, "Anything you know about cancer treatment, Natalie got some of it at some point."
"She received five rounds of very high-dose chemotherapy and immunotherapy together. She also had a resection surgery to remove the tumor," she says. "She had two bone marrow transplants with her own stem cells. Then she had 13 rounds of radiation."
As of early March, Dodge says Natalie was in her final third of treatment: immunotherapy. "Natalie takes an oral medication and daily injections, and then we go down to St. Jude once a month for an inpatient stay where they administer an immunotherapy."
And after the toddler's first five rounds of chemotherapy and immunotherapy, Dodge says her little girl was declared as "having no evidence of disease" and has "continued to have clear scans."
"It's truly, truly remarkable," she says. "I have seen other protocols at other hospitals around the world, and there are not as many kids having that NED status so early in treatment elsewhere, as I've seen at St. Jude."
Dodge praises her family, friends and community for helping to navigate this difficult journey and keeping Natalie in their thoughts. She also explains that sharing Natalie's story on social media has been "therapeutic" for her and helps to remind her how far they've come.
"Making these videos felt kind of therapeutic for me, especially on days when she felt so sick and we were stuck in this tiny room and we couldn't go anywhere," says Dodge. "They were just some of the darkest days of my entire life. And it helped me to remind myself how far we had come and to be thankful that I was stuck in this room with this little girl who was alive."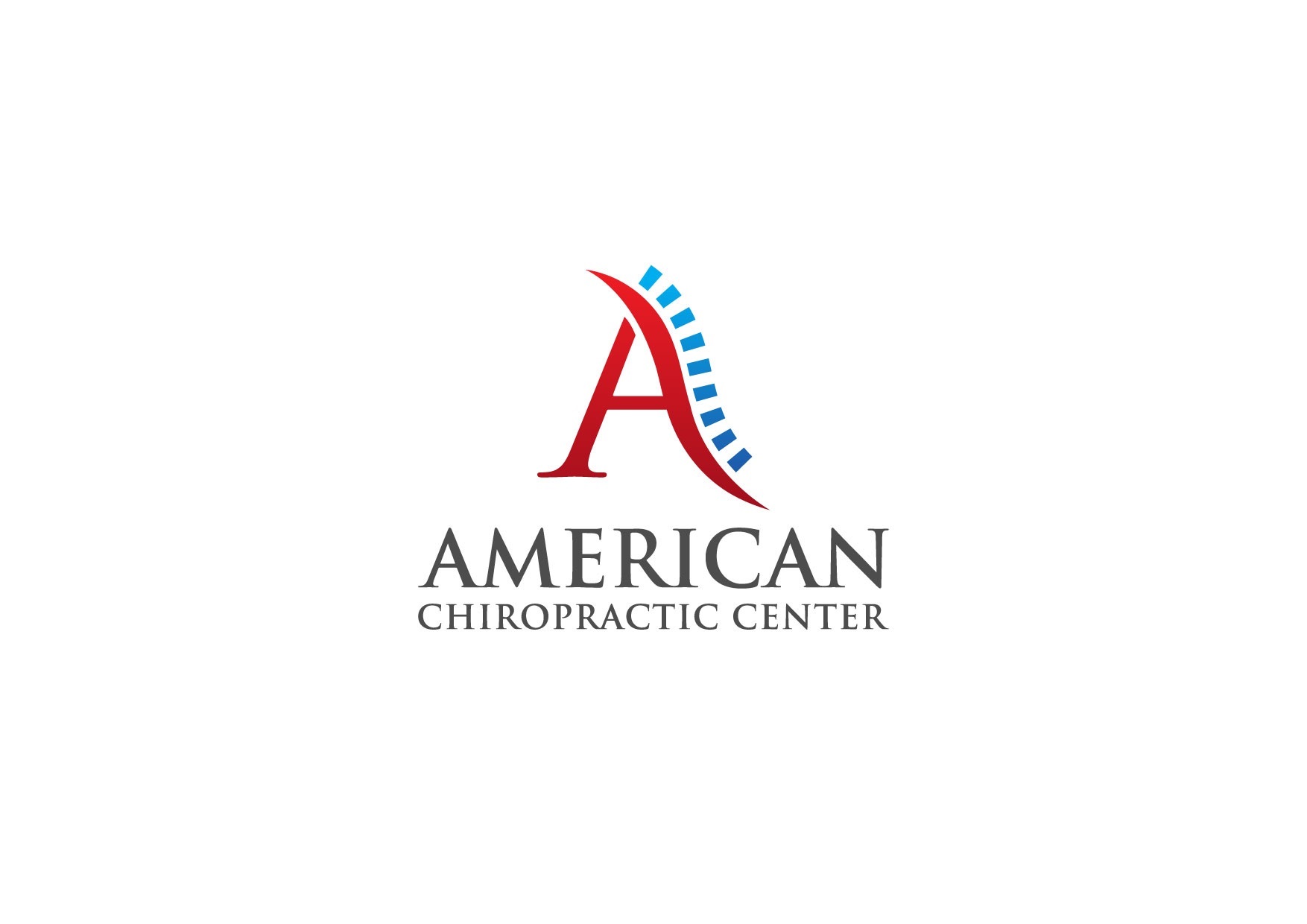 We understand how important it is to choose a chiropractor that is right for you. It is our belief that educating our patients is a very important part of the success we see in our offices.