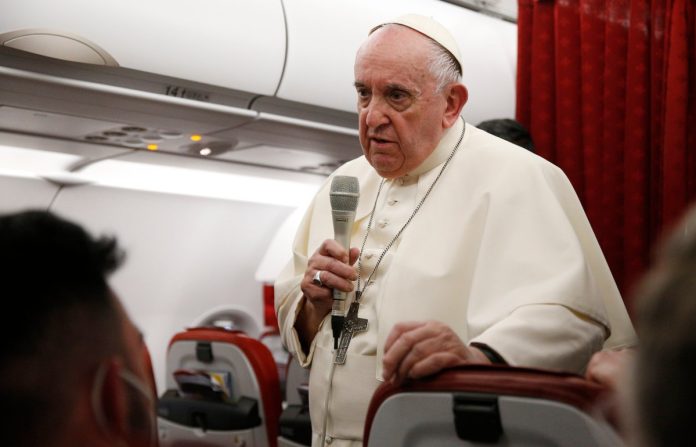 ABOARD THE PAPAL FIGHT FROM MALTA This time, Pope Francis avoided speaking directly about Russian President Vladimir Putin and instead focused on condemning war as a brutal and cruel action that "goes against human nature."
A conversation with journalists took place on April 3 on the plane that took him of Malta in the direction of the Vatican The pope was asked whether he'd met with Russian president Vladimir Putin.
"The things I've said to the authorities from every side are all public," the pope said. "I have not hidden anything I've said."
He also said that his most recent time when he met with Putin was when Putin called. Russian president called to offer his best wishes for the new year.
In spite of numerous reports of alleged violations of the law by Russia and the Russian government, Pope Francis maintained the long-standing Vatican custom of never praising one side of a conflict.
Recently, a collection of images released online showcased the aftermath of the atrocities committed in Ukraine and included numerous Ukrainians who were apparently executed.
In the absence of any information about the photos prior to the press gathering, Pope Francis said the evidence was yet another proof of the fact that "war is a form of cruelty."
"It represents the religious spirit that is Cain," the pope declared. "I will complete everything that has to be done. And the Holy See, the diplomatic side is doing all that is possible. We can't make public everything we do, however the Holy See is" doing everything that is possible.
In announcing that a possible visit towards Ukraine could be "on the table" the pope stated that it was still uncertain.
"I affirm with absolute sincerity that I'd like to travel. The desire is always there and there's never a 'no"," he declared. "If it's feasible and I can do it, I will accomplish it. It's all still in the in the air."
In contrast, Pope Francis told journalists that a visit to Russian Orthodox Patriarch Kirill is underway.
"We are contemplating doing this with the Middle East," the pope told reporters.
Pope Francis also addressed concerns regarding his health. While in Malta the pope was observed moving slowly because of leg pain, and often sat in a reclining position when traveling in the popemobile.
"My health is somewhat unpredictable," the pope said. "I suffer from this issue in my knee which can cause problems of walking. However, it's getting better."
The pope has suffered for a number of years with sciatica that as per the Mayo Clinic, can cause intense pain radiating across the sciatic nerve. The nerve is a branch of the lower back, through the hips and into each leg.
In December of 2020, Pope Francis did not attend the traditional prayer service at the end of the year and the New Year's Mass within St. Peter's Basilica due to sciatica.
"We'll check to see if the (knee) returns" back to its normal state, the doctor added. "But we don't know when the game will conclude."