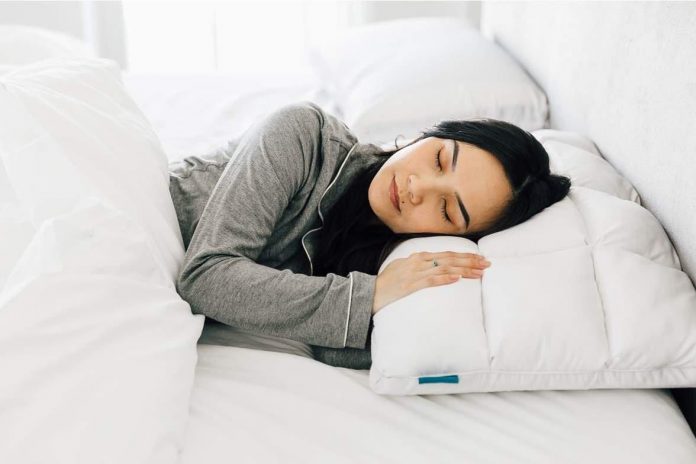 As a kid, you probably used whatever pillow was available to you. As an adult, however, you may have realized that taking some time to find the best pillow for you can make a huge difference in how well you sleep—and how you feel in the morning. Whether you like to sleep on your side, back, stomach or switch between all three, it's important to have a sleep setup that keeps your spine in line, or as close to it as possible.
The Leesa Hybrid Pillow is adjustable and reversible, making it one of the best pillows for side … [+] sleepers.
Leesa
When it comes to choosing good pillows, "keep the proper alignment of your neck and back as a priority in your decision-making and you'll have a much better chance of a good night's sleep," says Dr. Neel Anand, professor of orthopedic surgery and director of spine trauma at Cedars-Sinai Spine Center in Los Angeles. In general, Anand says you'll want to look for a pillow that keeps your neck parallel to the mattress and adapts to your sleep position.
Side sleepers generally want a firm, thick pillow, for example, while stomach and back sleepers may be more comfortable with a softer, thinner pillow. Obviously, budget is a factor too, but Anand says you shouldn't stress if you don't want to shell out for a pricier pillow. "Don't assume the more money you spend, the more comfortable you'll be," he says. Ultimately, he adds, the best pillow is "the one that feels best to you."
Whether you tend to get sweaty at night, struggle with back or neck pain, or want a pillow that's just right for your sleep style, here are some of the best pillow options out there.
Best Pillow For Most People
Coop Eden Adjustable Pillow
Fill material: Shredded memory foam
Size options: Queen, king
Pillows are such a personal experience, and that's why the Coop Eden Pillow shines. It's adjustable, so you can remove or add fill (it comes with extra fill if you feel like you need more oomph) as you want to help keep your back and spine aligned. It's made with a soft, gel-infused memory foam and microfiber fill blend, so it creates a much cooler surface than other standard pillows. And the pillowcase is made with a blend of bamboo-derived viscose rayon and polyester for extra breathability and softness.
What the Reviews Say: With almost 9,000 5-star reviews on Amazon, this pillow is a winner. "I will tell you that we do not take pillow purchasing lightly," says one happy sleeper. "My husband is a picky pillow person. It can't be too soft so that it feels like it's suffocating him in the middle of the night. It can't be too hard because it makes his neck hurt. We have a rather large pillow graveyard in the spare bedroom… [but] this one…perfection!"
Best Pillow For Neck Pain
Tempur-Pedic TEMPUR-Neck Pillow
Fill material: TEMPUR® material (a proprietary memory foam)
Size options: Small, medium, large
Constantly having to fluff and re-fluff a pillow isn't exactly ideal, but that's not a problem with this ergonomic pillow from Tempur-Pedic. Made of the company's patented TEMPUR material (a type of memory foam), this firm pillow will hold its shape for years. Designed to follow the natural curve of your head and neck, it provides the best support to your upper body when you sleep on your back or your side.
What the Reviews Say: With more than 1,700 5-star ratings online, neck pain sufferers overwhelmingly believe in this pillow. "Now I can finally get a good night's rest without waking up with a neck ache," one reviewer said. One side and back sleeper said that the pillow is "extremely comfortable" and "supports my neck perfectly."
MORE FROM FORBESThe Best Pillows For Neck Pain, According To Glowing Online ReviewsBy Korin Miller
Best Pillow For Side Sleepers
Leesa Hybrid Pillow
Fill material: Polyester microfiber and ventilated gel
Size options: Standard, queen
Adjustable and reversible, this pillow from popular sleep company Leesa has all kinds of great features for side sleepers. One side of the pillow features a soft, quilted surface, while the other side has cooling gel to help you stay comfortable while you sleep. A removable insert can help you adjust the height to find a level that's perfect for you.
What the Reviews Say: People rave about the hybrid pillow in reviews. "This pillow is amazing," one wrote. "It was perfect size and density right out of the box. I can say with confidence this is the best pillow I have ever owned." Another loved the pillow's cool side, calling it "fantastic." "Was having neck and shoulder pain on my old pillows. This one is just perfect!" someone else wrote.
Best Pillow For Back Pain
Layla Kapok Pillow
Layla
Layla Kapok Pillow
BUY FROM LAYLA
Use code FORBES to receive 10% off.
Fill material: Kapok and open-cell memory foam
Size options: Queen, king
Layla has built up a name for itself as a great mattress maker, but the company also produces some of the best pillows you can buy. This pillow is filled with kapok—cotton-like fibers that are softer and lighter than cotton or wool—along with reactive memory foam to help support your head and neck while you sleep. A side zip allows you to remove and add fill to find the perfect height and help to reduce pain in the process. A nice feature: The cover is woven with copper-infused yarn to help reduce odor that can develop in pillows over time.
What the Reviews Say: This pillow racks up good reviews from people who say it's helped with their pain. One reviewer said it's "the best pillow I've used so far that provides continuous support" while another said, "I no longer wake up with my neck or back hurting." Plenty of reviewers also said that they liked the pillow so much they bought them for family members, too.
Best Down Pillow
Boll & Branch Down Pillow
Fill material: Down
Size options: Standard, king
Boll & Branch makes its down pillows from responsibly-sourced down that's triple-washed to ensure a longer-lasting (and cleaner) loft. You can choose from three density options—soft (ideal for stomach sleepers), medium and firm—so no matter your personal preferences, there's one you'll like. And the three chamber construction ensures that the pillows won't go flat over time, like many other down pillows do.
What the Reviews Say: The Boll & Branch Down Pillows can satisfy all types of sleepers. "I have the soft and my husband has the medium down pillow. We both think our Boll and Branch pillows are the best pillows we have ever slept on!" writes one enthusiastic reviewer. "Most comfortable pillow we have ever owned," says another.
Best Cooling Pillow
Tuft & Needle Original Foam Pillow
Fill material: T&N Adaptive Foam, graphite, cooling gel beads
Size options: Standard, king
The Tuft & Needle Original Foam Pillow is soft and squishy, yet supportive—the dream pillow trifecta. It's made of T&N Adaptive Foam that's been custom cut (rather than shredded) so it properly aligns your head and neck, while keeping it's shape all night. It also contains graphite, which pulls heat away from your head while you sleep, and cooling gel beads that trap heat, so you're always sleeping on the "cool side of the pillow."
What the Reviews Say: This highly-rated pillow has more than 2,500 5-star reviews. "My all-time favorite pillow!" writes one enthusiastic reviewer. "I found this pillow at a hotel I stayed at and had to find out the brand to purchase one for myself at home. I've given my entire family the same pillow and they all love it." Another adds, "I had no idea this level of comfort existed."
Best Firm Pillow
Purple Harmony Pillow
Fill material: Purple Grid Hex and Talalay latex core
Size options: Standard, tall
Built with its 360º Purple Grid Hex—an intricate triangle pattern hyper-elastic polymer—the Purple Harmony Pillow relaxes when your head is on it, but maintains its shape over time. It's firmer around the edges and softer in the center, so it gently contours around your head and neck for support and maximum comfort. It also comes in two heights so you can choose the one that's most comfortable to you (the 6.5-inch is better for back sleepers, side sleepers with smaller frames and stomach sleepers, while the 7.5-inch is better for side sleepers with average to larger frames and anyone who generally prefers a taller pillow).
What the Reviews Say: With more than 7,200 5-star reviews, it's a real winner. While one customer acknowledged its high price tag, calling it "the most expensive pillow I have ever bought", they also added that "it is also the BEST pillow I have ever slept on…a perfect blend of soft and support." Many others call it the "perfect pillow" and "highly recommend" it.
Best Memory Foam Pillow
Weekender Ventilated Gel Memory Foam Pillow
Fill material: Memory foam and temperature-regulating gel
Size options: Standard, queen, king
Don't let the low price fool you, the Weekender has a lot going for it. This pillow is made with soft and supportive memory foam to cradle your head and neck, while providing pressure relief and comfort. It also has a ventilated design and temperature-regulating gel to keep you cool and comfortable while you sleep. The removable cover is machine washable, too.
What the Reviews Say: With more than 14,000 5-star ratings, the Weekender has plenty of fans. "I have slept with this pillow every night (and not just a few afternoon naps) since and LOVE it," one reviewer wrote. "I cram it in my suitcase when I travel for work. Love, love, love it." One chronic pain sufferer raved about how the pillow has taken away their sleep-induced neck pain, adding, "I literally ordered a second one after two days of using this pillow."
Best Pillow For Stomach Sleepers
Bluewave Bedding Super Slim Gel Memory Foam Pillow
Fill material: Gel memory foam
Size options: Standard, king (in both super slim and ultra slim)
Bluewave makes it known that this pillow is really thin—a huge perk for helping stomach sleepers keep their head and neck in alignment while they snooze. The pillow is just 3.25 inches high and features cooling gel-infused technology to absorb and dispel heat at night. Ventilation holes in the pillow's memory foam interior also help keep you cool.
What the Reviews Say: Stomach sleepers are pretty impressed. With more than 2,400 5-star ratings on Amazon, customers rave about the pillow's comfort. "I am EXTREMELY picky about my pillows. But this one was exactly what I was looking for as a stomach sleeper who puts her arm under the pillow," one said. "It's like someone took a mattress topper and cut a rectangle out of it, which is exactly what I was looking for." Another reviewer said they've always had issues waking up with a sore or numb arm from stomach sleeping but "this pillow is perfect for that and I've stopped having those issues."
Best Pillow For Back Sleepers
Epabo Contour Memory Foam Pillow
Fill material: Memory foam
Size options: Standard, queen
Epabo's contour memory foam pillow has an ergonomic design to perfectly support your head and neck while you sleep. Just place your head in the designated spot, and you're good to go. Made of memory foam, this pillow is breathable to keep you cool while you sleep. It's also adjustable: It has a removable piece of foam at the bottom of the pillow that you can take out if you feel like you're positioned too high.
What the Reviews Say: With more than 14,000 5-star ratings, this pillow has racked up some impressive reviews, too. "The shaping in the middle is very comfortable and my neck gets a lot of relief from this product," one person wrote. Another back sleeper said the pillow "made my neck feel supported and cradled [my] head," adding, "for a back sleeper this was a great pillow."
Best Down Pillow
Puredown Natural Goose Down Feather Pillow
Fill material: Down
Size options: Standard, queen, king
These pillows are filled with 100% goose down, giving a plush, comfy feel. Puredown's double layered cotton shell fabric and polyester inner layers keep feathers firmly inside your pillow, so they won't prick or poke you. The down itself is cleaned and disinfected, as well as odorless and lightweight. Also, there's the price to consider: At $46 for two pillows (especially down pillows), this is a total bargain.
What the Reviews Say: The pillows have more than 7,900 5-star reviews on Amazon from happy sleepers. "If you have not used down pillows, buy this set," one reviewer said, noting that they're "just as good or better than my $200 each down pillows." Another wrote that the pillow "doesn't go flat like most down pillows—one scrunch in the morning and it's back to it's original shape."
Best Value Pillow
Himoon Bed Pillows
Fill Material: Down-like microfiber
Size Options: Standard, queen and king
With a price tag of $27, you can rest easy with this set of two breathable pillows—a budget option marked as Amazon's Choice. Filled with down-like microfiber, the pillows have the same fluffiness and adaptability of an authentic down pillow, but without the price to match. Because each pillow has ample fill, your head will stay properly supported without sinking into the mattress, keeping your spine in proper alignment so you wake up rested instead of sore.
What the Reviews Say: These pillows have an overall rating of 4.5 stars and more than 4,700 five-star reviewers share an appreciation for the quality and affordable price point. "So soft and comfortable, they don't flatten out throughout the night. They keep their form which is a plus for me," one shopper says. "These are such a steal—especially for the price!" says another.
Best Pillow On Amazon
Beckham Hotel Collection Bed Pillows
Amazon
Beckham Hotel Collection Bed Pillows, Set of 2 (Queen)
BUY FROM AMAZON
Fill Material: Gel memory foam
Size Options: Queen and king
There's a reason why these are Amazon's best selling pillows – both thick and fluffy, these pillows make sleep effortless. Once you find your "sweet spot," this pillow stays put so there's no need for constant fluffing and readjusting. Plus, it's stain-resistant and free from harsh chemicals so you can sleep soundly knowing that you're not breathing in toxins while sound asleep.
What the Reviews Say: These bestselling pillows on Amazon have racked up an impressive (and mostly positive) 125,000+ reviews, and all types of sleepers are happy with them. "They provide great support while maintaining a little "give," which is especially helpful since I'm a side sleeper," one five-star reviewer says. "My fiancé who is both a back and side sleeper slept very well too. His snoring was much better, his oxygen levels were normal all night and his sleep score was very good," says another satisfied shopper.
Best Temperature-Regulating Pillow
True Temp Pillow
Fill Material: 100% foam
Size Options: Standard and king
With Sleep Number's True Temp Pillow, every side of the pillow is the cool side. Designed with unique temperature-balancing technology, this foam pillow absorbs moisture and prevents buildup of heat and humidity to keep you feeling cool and comfortable throughout the night. Plus, it's available in three shapes—classic, contour and ultimate—so no matter which type of sleeper you are, there's an ideal option for you.
What the Reviews Say: With over 500 mostly glowing reviews, many can attest to this pillow's intense cooling properties. "The pillow definitely does what it says of keeping you cool. I didn't get sweaty or hot throughout the night," writes one happy sleeper. "It is cool, and does not take long to cool back down after you have laid on one part of it," another five-star reviewer says.